Let's explore a new adventure trail to unexplored Zanskar!
Go Zanskar
13th August- 23rd August 2022
(9 Nights/10 Days )
Vehicle Type – MUV/SUV
Let's explore some of the most isolated villages, unforgiving dirt roads, deadly river crossings – all bundled in an epic 10 -day road adventure!
The Indian Border Road Organisation has opened a new circuit in 2019 for better connectivity to the Zanskar region in an effort to find a shorter way between Keylong and Kargil for the Indian Army.
At 16,580 feet above the sea level, Shinkula Pass connects the Zankar region to Keylong.
Navigate through the Toughest Passes and roads on a Trip to Zanskar via Shinkula Pass. The rock strewn roads on the way will reward you with gorgeous vistas that will make this trip worthwhile!
Itinerary
| | | | | |
| --- | --- | --- | --- | --- |
| DAY | DATE | DESTINATION | KMS | TRAVEL TIME |
| DAY 1 | 13TH AUGUST | MANALI | REACH MANALI | |
| DAY 2 | 14TH AUGUST | MANALI-JISPA | 92 KMS | 2-3 HOURS |
| DAY 3 | 15TH AUGUST | JISPA- KARGYAK VILLEGE | 110 KMS | 6-7 HOURS |
| DAY 4 | 16TH AUGUST | KARGYAK- PURNAY- PHUKTAL MONESTERY  – PADUM | 90 KMS | 4-5 HOURS |
| DAY 5 | 17TH AUGUST | PADUM | REST DAY | |
| DAY 6 | 18TH AUGUST | PADUM – PENZILA PASS- RANGDUM- SURU VALLEY | 115 KMS | 6-7 HOURS |
| DAY 7 | 19TH AUGUST | RANGDUM – NURLA | 224 KMS | 5-6 HOURS |
| DAY 8 | 20TH AUGUST | NURLA- LEH | 82 KMS | 2- 3 HOURS |
| DAY 9 | 21ST AUGUST | LEH | LOCAL | REST DAY |
| DAY-10 | 22ND AUGUST | LEH- JISPA | 335 KMS | 8-10 HOURS |
| DAY -11 | 23RD AUGUST | JISPA – MANALI | 92 KMS | 2-3 HOURS |
Destination

Departure

MANALI - JISPA- KARGYAK- PURNAY- PHUKTAL MONESTERY - PADUM - - PENZILA PASS- RANGDUM- SURU VALLEY - NURLA- LEH

Departure Time

13th August 2022

Return Time

23rd August 2022

Included

4 Star & 5 Star

Breakfast

Dinner

Evening Tea

Lunch

Not Included

Alcoholic Beverages

Home Stay
Tour Plan
Report at Manali by the early evening. Reach Manali, Check-in in the hotel. Our team will do scrutiny of your vehicles. Meanwhile meet your fellow travellers and get ready for the most adventurous trip to Zanskar. Drivers briefing at 6.00 pm followed by dinner!!!
Hotel Ananatmaya or Similar (****)
Meals Included- Dinner 

Manali – Jispa (14TH August)
After Breakfast leave from Manali. We drive through from Atal tunnel to Jispa, a small village on the banks of Bhaga River (a tributary of Chenab) in Lahaul region. This is the best place to acclimatization yourself to high altitude. On our way to Jispa, we will be refuelling at Tandi which is the last fuel station before Leh. The overnight stay will be at the Hotel, located on the banks of the Bhaga. JISPA is the ideal place for overnight stay to acclimatize your body to get used to the high attitude. Jispa, an oasis of tranquillity is situated at an altitude of 10,890 feet.
Hotel- Padma Lodge or Similar (***)
Meals Included- Breakfast + Tea + Lunch + Evening Tea + Dinner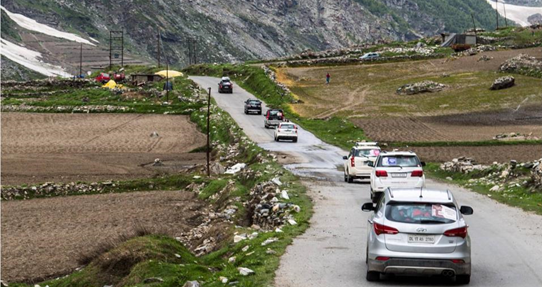 Jispa- Kargyak Village (15th August)
We will start early after breakfast. The excitement starts. Today's route will take you over 3300m above sea level to over 5000m above sea level at Shinkula Pass. From Shinkula, the descend starts and takes you to 3500m above sea level in less than 10km, so make sure you check your brakes before you start descending. Once at Shinkula Pass in Zanskar, you head to Kargyak Village. The road from Shinkula Pass to Kargyak Village is 83 km long and the road is quite challenging. Although most of the road goes through vast and open spaces but it often submerges into rivers. These are not just streams or normal water crossings but full-fledged rivers that require a proper guidance and skills to cross. Out team will make sure to ease out this difficult terrain for you. You'll soon be rewarded for your hard work by stunning views of Gonbo Ranhjon, a massive conical mountain that stands tall and mighty in the middle of the cold desert. The mountain is one of the most sacred ones among the people of Zanskar. Once you complete the final leg of the day, camp at Kargyak Village near the river. Relax and unwind yourself in this beautiful place.
Stay – Camping (***)
Meals Included- Breakfast + Tea + Lunch + Evening Tea + Dinner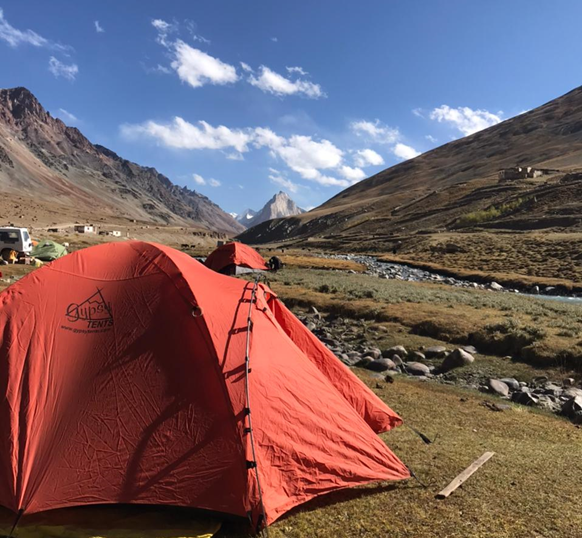 Kargyak Village- Purney – Phuktal Monastery – Padum (16th August)
This day, we will leave for Purney, which is approximate 29 km from Kargyak. This 29 Kms is extremely difficult. After Reaching Purnay you definitely need a break. After refreshing you have an option to explore the phenomenal Phugtal monastery which is 40 minute hike from the village. The structure of the monastery is awe-inspiring, and the fact that it is built in a cave which is more than 2,500 years old, will make your experience even more overwhelming. If you are not keen on walking to the monastery you can stay back and explore the village. After 2 hours we will head towards Padum which is 3 Hours drive. After visiting the remote villages, entering the significantly big town of Padum is sure to be a welcoming change. The short route from Purney to Padum is a fascinating one, rife with gorgeous views, and vast open valleys with the occasional challenge of off-roading. On this route, you will also cross the elusive villages of Cha, Ichar and Muney. Reach Padum and check in to the Hotel.
Stay – Hotel Marq (***)
Meals Included- Breakfast + Tea + Lunch + Evening Tea + Dinner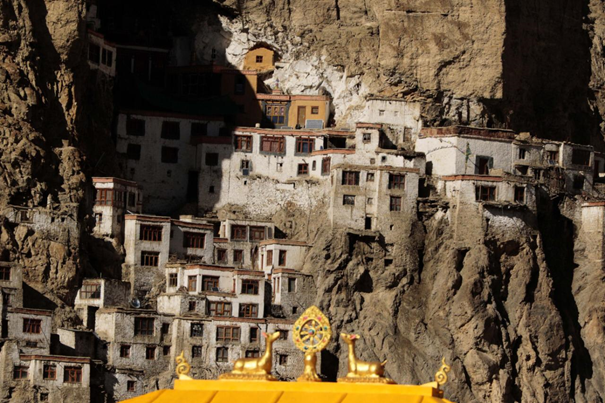 Today is a relax day, Explore local sightseeing in Padum including Sani, Stongdey, and Karsha monasteries. We will have a picnic lunch at Sheela village Waterfall while coming back from Stongdey.  In the evening visit Karsha monastery for a nice view of Padum village.
Stay – Hotel Marq (***)
Meals Included- Breakfast + Tea + Lunch + Evening Tea + Dinner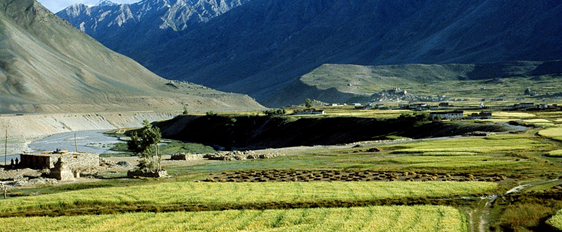 Padum- Panzila- Rangdum- Suru Valley (18th August)
This is the last leg of your journey to Zanskar valley. Today, you head to Rangdum, which is the last main town in Zanskar. On the way explore Drang Drung Glacier; Spot wildlife including Marmots on the way to Penzi La, Stop by at Statso – Langtso Twin Lakes on the way to Penzi La Once in Rangdum, reward yourself for having completed a journey till now, very few travellers of the country have been able to undertake. After Lunch, we will drive 30 more kms towards Suru valley where we are camping tonight.
Stay – Camping (***)
Meals Included- Breakfast + Tea + Lunch + Evening Tea + Dinner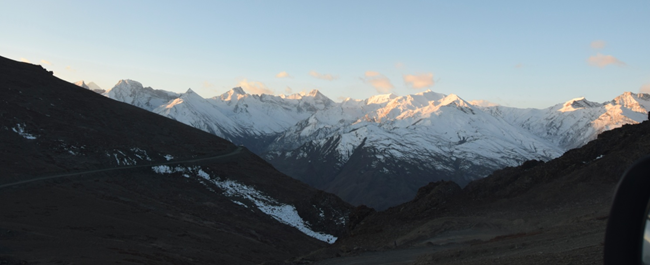 Suru Valley- Nurla (19th August)
Leave early after breakfast and start your journey towards Leh. As you leave Panokhar and drive towards Kargil, you will slowly leave dry mountains and enter into a comparatively greener valley, giving the impression that you're entering Kashmir. Panokhar to Kargil may remain the most enjoyable ride of the entire journey. Tody's Destination is Nurla which is also known as Apricot Country. Reach by late evening and enjoy your stay right next to the Indus River.
Stay – Apricot Tree (****)
Meals Included- Breakfast + Tea + Lunch + Evening Tea + Dinner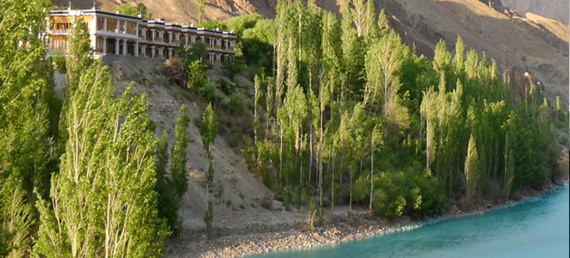 After Breakfast leave back for Leh.  Today we will explore Leh- Srinagar Highway. On our way we will pass through magnetic hills and stop at Pathar sahib Gurudwara. We will have a beautiful tarmac road to drive on today. Explore Leh market and try local food at some of the cafes.
Hotel – Ladakh Sarai or Similar (*****)
Meals Included- Breakfast + Lunch + Dinner

Today is a
Rest day at Leh. You can also opt for sigh seeing around or visit a local Market.
Hotel – Ladakh Sarai or Similar (*****)
Meals Included- Breakfast + Dinner

Leh –Jispa- (22nd August)
After breakfast, start your journey back towards Manali Explore the beautiful Leh- Manali highway and reach back to Jispa by the evening.
Stay- Padma Lodge or Similar (***)
Meals Included- Breakfast + Tea + Lunch + Evening Tea + Dinner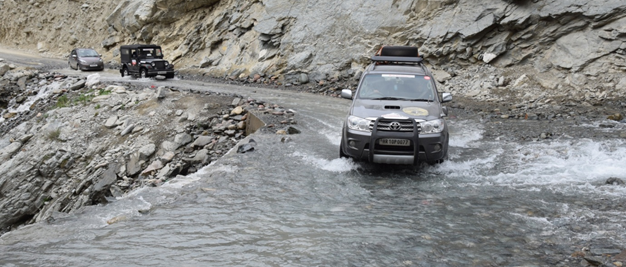 Jispa-Manali (23rdAugust)
After Breakfast we will leave for Manali. The adventure ends here!!! Welcome back to Civilisation. Enjoy a fun filled evening and exchange goodbye notes with your fellow travellers over a sumptuous Gala Dinner. Hotel – Hotel Anantmaya or Similar (****) Meals Included- Breakfast + Tea + Lunch + Evening Tea +BBQ + Dinner
Cost for "Go Zanskar 2022"
The charges for Indian Nationals is INR 68000/- Per Person.
Children Below 8 years are not recommended
Children between 8-12 years- INR 30000/-
Children above 12 years is treated as adult
The single room supplement payable in case a participant does not want accommodation on a twin sharing basis will be 40% extra.
The Charges for hiring Drivers is extra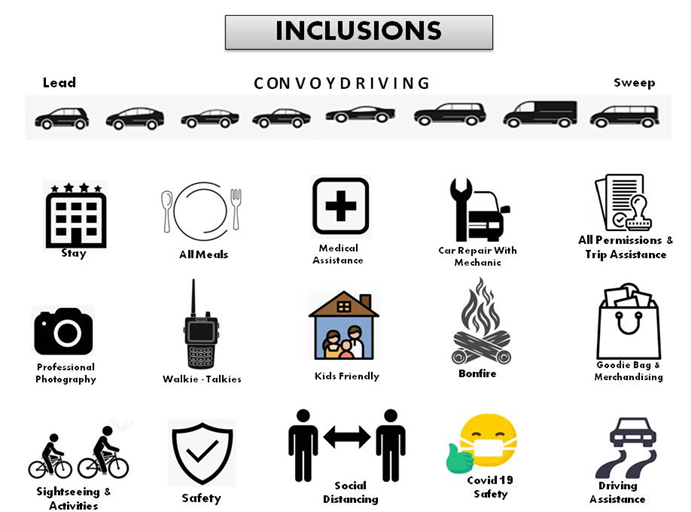 DOES NOT INCLUDE
Vehicle/Fuel/ Road tax/tolls etc.
Tips and gratuities.
Any kind of drinks (Alcoholic, Mineral)
Any personal expenses
Any spare parts such as engine oil break oil and others.
Cost of any form rescue, evacuation, hospitalization, etc.
Whatever is not mentioned in Inclusions
5% GST
Sleeping bag
Cancellation Policy:-
Cancellation of event by the organizers 100% refund.
Cancellation by participant will have no refund
Cancellation arises out of unseen natural circumstances no refund.
In case of emergency at home/illness etc. 50% will be deducted and rest of the amount may be adjusted in the next trip.
In case of rough weather, we have the full discretion, whether to go ahead with the trip/expedition or not. In case of cancellation due to rough weather no refund
In case of Road Block to any destination, no refund and you have to pay extra for making alternate arrangements.
TERMS & CONDITIONS
You need to have your own vehicle. (Vehicle has to be registered on your/family name)
Valid Driving License with comprehensive insurance coverage policy.
Maximum 4 Person per car is recommended.
The charges specified are for each crew member in the participating vehicle and includes accommodation on twin sharing basis along with breakfast, packed refreshments and dinner at the specified halts and night halts as specified in the itinerary, inner line permits, local guides, medical assistance with oxygen and medical supplies, service crew.
Buffet- Breakfast and Dinner with choice of Veg and Non Veg. At places you will be provided with packed breakfast. Lunch would be quick snacks like Maggi, Bread Omelet, Thupka, Noodles and Veg Thali. Few places like, Padum, Suru valley would serve very basis simple vegetarian food.