Go Boundless Himalayan Drive Ladakh Self Driven Expedition
Go Boundless Himalayan Drive Ladakh Self Driven Expedition
4th-15th June 2022
(12 nights/13 days )
Experience some of the most exhilarating Mountain passes and Highest motorable Roads in the WORLD
"Go Boundless Himalayan Drive" is an organised driving excursion starting from Manali on 04th of June, 2022 and moving through Jispa, Sarchu, Pang, Leh, Nubra, Pangong Tso, Tso-Kar, Nurla, Kargil, Drass, Sonmarg before culminating in Srinagar on the 15th of June, 2022.
The route has been carefully planned to provide an unforgettable motoring experience, with relaxed driving and adequate breaks. The drive allows gradual acclimatization while crossing some of the world's highest motorable mountain passes; long stretches of the cold desert and deep gorges of the Beas, Chandra & Indus Rivers.
"Go Boundless Himalayan Drive" is a fun expedition where participants will drive together in a group following convoy rules. All vehicles will start together every morning and end the day at the same night halt. Adequate halts will be planned in between to take pictures, eat food, and enjoy the holiday!
Go Boundless will take care of all details including:
Why Travel with Go Boundless-
Planning the route and itinerary to include the 'must see' sights
Coordination of the convoy
Local guidance and support from experts
Safety Measurements
Lead & Sweep vehicle
First Aid arrangements
Extra drivers on demand
Basic service backup
Stay at all the offbeat and best available places.
Hill Driving tips
Merchandising of Go Boundless
Munching Goody Bag
Family and Kids Friendly
Climate- Ladakh is a Dry Desert region. During June, temperature range from 20 degrees during the day to -5 at night at some places and passes.
The itinerary for "Go Boundless Himalayan Drive" has been designed for gradual acclimatization and to include the best lodging and boarding options available on this route.
| | | | | | |
| --- | --- | --- | --- | --- | --- |
| DAY   | DATE | DESTINATION | DISTANCE | TRAVEL TIME | ALTITUDE |
| DAY 1 | 04TH JUNE | REACH MANALI | | |   6700 FT ABOVE |
| DAY 2 | 05TH JUNE | MANALI- JISPA |   92 KMS | 3-4 HOURS | 10890 FT ABOVE |
| DAY 3 | 06TH JUNE | JISPA- LEH | 315 KMS | 9-10 HOURS | 11500 FT ABOVE |
| DAY 4 | 07TH JUNE | LEH | REST DAY | LOCAL | 11500 FT ABOVE |
| DAY 5 | 08TH JUNE | LEH | REST DAY | LOCAL | 11500 FT ABOVE |
| DAY 6 | 09TH JUNE | LEH-NUBRA | 114 KMS | 5-6 HOURS | 10000 FT ABOVE |
| DAY 7 | 10TH JUNE | NUBRA | LOCAL | RELAX DAY | 10000 FT ABOVE |
| DAY 8 | 11TH JUNE | NUBRA-PANGONG | 130 KMS | 5-6 HOURS | 14270 FT ABOVE |
| DAY 9 | 12TH JUNE | PANGONG-TSOKAR | 310 KMS | 7-8 HOURS | 14860 FT ABOVE |
| DAY 10 | 13TH JUNE | TSOKAR-NURLA | 231 KMS | 6-7 HOURS |   9977 FT ABOVE |
| DAY 11 | 14TH JUNE | NURLA-SONMARG | 257 KMS | 6-7 HOURS |   8960 FT ABOVE |
| DAY 12 | 15TH JUNE | SONMARG-SRINAGAR |   80 KMS | 2-3 HOURS |   5200 FT ABOVE |
Destination

Departure

Manali – Jispa – Leh – Nubra –Pangong – Tso-kar- Nurla – Kargil – Drass – Sonmarg – Srinagar

Departure Time

4th June 2022

Return Time

15th June 2022

Included

4 Star & 5 Star

Breakfast

Dinner

Evening Tea

Lunch

Not Included

Alcoholic Beverages

Home Stay
Tour Plan
Report at Manali by the Afternoon!! Reach Manali, Check-in in the hotel. Our team will do scrutiny of your vehicles. Meanwhile meet your fellow travellers and get ready for the most adventurous trip to Ladakh. Drivers briefing at 7.00 pm followed by dinner!!!
Hotel AnantMaya or Similar (****)
Meals Included- Dinner 

Manali – Jispa (05th June)
After Breakfast leave from Manali. We drive through from Atal tunnel to Jispa, a small village on the banks of Bhaga River (a tributary of Chenab) in Lahaul region. This is the best place to acclimatization yourself to high altitude. On our way to Jispa, we will be refuelling at Tandi which is the last fuel station before Leh. The overnight stay will be at the Hotel, located on the banks of the Bhaga. JISPA is the ideal place for overnight stay to acclimatize your body to get used to the high attitude. Jispa, an oasis of tranquillity is situated at an altitude of 10,890 feet.
Hotel- Padma Lodge or Similar (***)
Meals Included- Breakfast + Tea + Lunch + Evening Tea + Dinner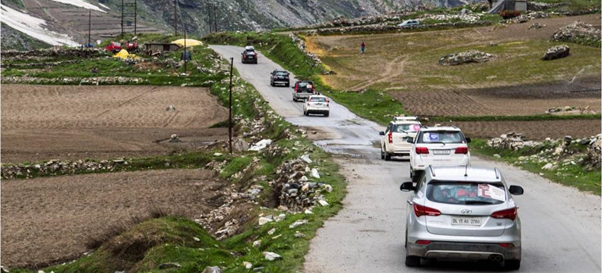 Day 3: Jispa- Leh – (06th June)
It's going to be a long day and we will leave early morning. The road beyond Jispa follows the picturesque Bhaga River across Baralacha La pass and Sarchu. Sarchu is on the Himachal Pradesh‐Jammu & Kashmir border. Enroute to Sarchu we will pass the Surajtal Lake. We will cross Zanskar range and Climb‐up the Gatta Loops, a series of 21 hairpin bends carved into the mountainside and then pass Lachung La and Nakee La passes, Pang & More plains and the Tanglang La pass as well. Reach Leh late in the evening and rest.
Hotel – Ladakh Sarai or Similar (****)
Meals Included- Breakfast + Tea + Lunch + Evening Tea + Dinner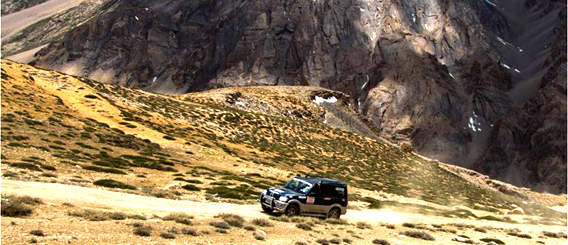 We are exploring the city on day 4 & 5. Sightseeing is always an individual's choice; some prefer to go for river rafting while others want to explore monasteries. So be a free bird today and roam around. Places to visit around Leh are Shay Palace, Hemis Monastery, Thiksey Monastery and Leh Market. Relax and unwind yourself at one of the best resorts of Leh. Acclimatise well for 2 days. You can also hire a bike/scooty to experience wide sceneries of this beautiful desert.
Hotel – Ladakh Sarai or Similar (****)
Meals Included- Breakfast + Dinner

Leh ‐ Nubra Valley - (09th June)
From Leh we drive to Nubra Valley, the road passes through Khardung La Pass, which is one of the highest motorable roads in the world. Nubra valley, just south of Siachen glacier, separates the Ladakh & Karakoram ranges of Himalayas and is a high altitude desert with scant vegetation. Historically, this was an important trade centre with Central Asia & East Turkmenistan. Diskit monastery located on a hill is the largest and oldest monastery in Nubra. Next to Hundar are several kilometers of sand dunes and one can enjoy a camel ride on the near extinct two humped Bactrian camels. Overnight stay at the beautiful campsite.
Campsite- Desert Himalaya or Similar (****)
Meals Included- Breakfast + Tea + Lunch + Evening Tea + Dinner

This day we will explore little more in Nubra valley. In the Morning visit Diksit Monastery. Diskit monastery located on a hill is the largest and oldest monastery in Nubra. Spend some time at Sand dunes and just relax back. We will take you to beautiful villages and an exciting pack lunch with some off-roading
Hotel – Desert Himalaya or Similar (****)
Meals Included- Breakfast + Tea + Lunch + Evening Tea + Dinner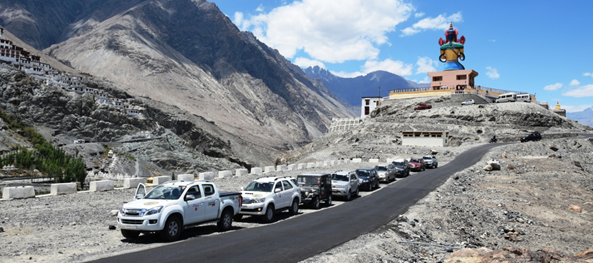 Nubra- Pangong Tso (11th June)
It's time to Say bye to NUBRA Valley. Rather than taking a normal route we take a shorter and adventurous route to Pangong Tso. Today's route is offbeat and 4x4 friendly. After crossing Agham, Shyok, Durbuk we will head towards Tangste check post. You will see very limited traffic on this route. Reach pangong by the evening. Pangong is a saline water lake on the Line of Actual Control (60% of the lake is under Chinese control) between India & China. Overnight stay will be at a campsite.
Stay- Pangong  Sarai or Similar (****)
Meals Included- Breakfast + Tea + Lunch + Evening Tea + Dinner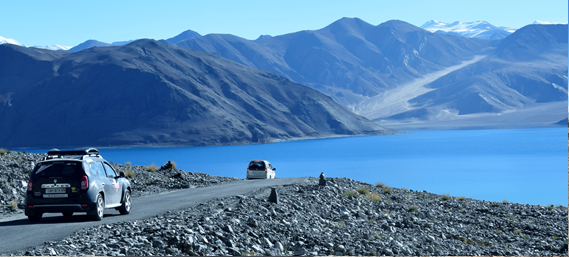 Pangong Tso – Tsokar (12th June)
Today's Route is heavenly...
We will start early and go to Tso Kar from Pangong Tso directly via remote and ever beautiful Changthang region. The drive between Pangong Tso and Tsokar is one of the most beautiful drives in whole Ladakh region. Tsokar is one of the most beautiful, calm and sacred high altitude salt lakes in India. Reach Campsite by late evening and enjoy bonfire under the stars!!!
Campsite-
PASTURELAND CAMP or Similar (**)
Meals-
Breakfast + Tea + Lunch + Evening Tea + Dinner

Tso-Kar – Nurla (13th June)
We will leave Early from Tso Kar . After crossing Morre plains we will climb Tang-lang-La and Bypass Leh and drive towards the Srinagar Highway. We have a beautiful stay today at Nurla. Reach by the afternoon, freshen up and enjoy the view of Indus River from your window. Relax and chill.

Nurla- Sonmarg (14th June)
Today we will take journey Towards Srinagar. Leave early and enjoy the beautiful drive. This day you drive across Kargil & Drass towards Srinagar. You will cross the Zojila pass and several hills like Tiger hill which came into public consciousness as a result of the Kargill war. Reach beautiful Sonmarg by the evening and enjoy the Kashmiri cuisine.
Hotel – TBA (****)
Meals Included- Breakfast + Tea + Lunch + Evening Tea + Dinner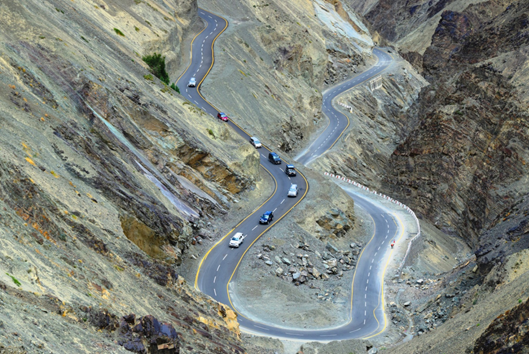 Sonmarg-Srinagar (15th June)
Leave Sonmarg after Breakfast and Reach beautiful Srinagar by lunch time. Its Just 80 kms but sometimes due to army movement or heavy traffic it takes a lot of travel time. Enjoy the valley with serene climate, snow capped mountains and apple trees around. Check in to the Hotel and enjoy the sightseeing and Shikara ride at Nagin Lake. Hotel – TBA (*****) Meals Included- Breakfast + Tea + Lunch + Evening Tea + Dinner

You can choose to stay back and explore Srinagar and surroundings or can start your Journey back home.
Gallery
Experience some of the most exhilarating Mountain passes and Highest motorable Roads in the WORLD
The charges for Indian Nationals is INR 75000/- Per Person.
Children till 5 years is complementary
Children between 5-12 years with Extra Bed- INR 35000/-
Children above 12 years is treated as adult
The single room supplement payable in case a participant does not want accommodation on a twin sharing basis will be 40% extra.
The Charges for hiring Drivers is extra
Bookings can be done by depositing 20,000/- booking amount!!!
The charges can be paid by Cheque / Demand Draft/ bank transfer in favour of
"Boundless Journeys"
Current A/c no 2479201000942,
Canara Bank, Sector 19, Chandigarh.
IFSC Code CNRB0002479
DOES NOT INCLUDE        
Vehicle/Fuel/ Road tax/tolls etc.
Tips and gratuities.
Any kind of drinks (Alcoholic, Mineral)
Any personal expenses
Any spare parts such as engine oil break oil and others.
Cost of any form rescue, evacuation, hospitalization, etc.
Whatever is not mentioned in Inclusions
5% GST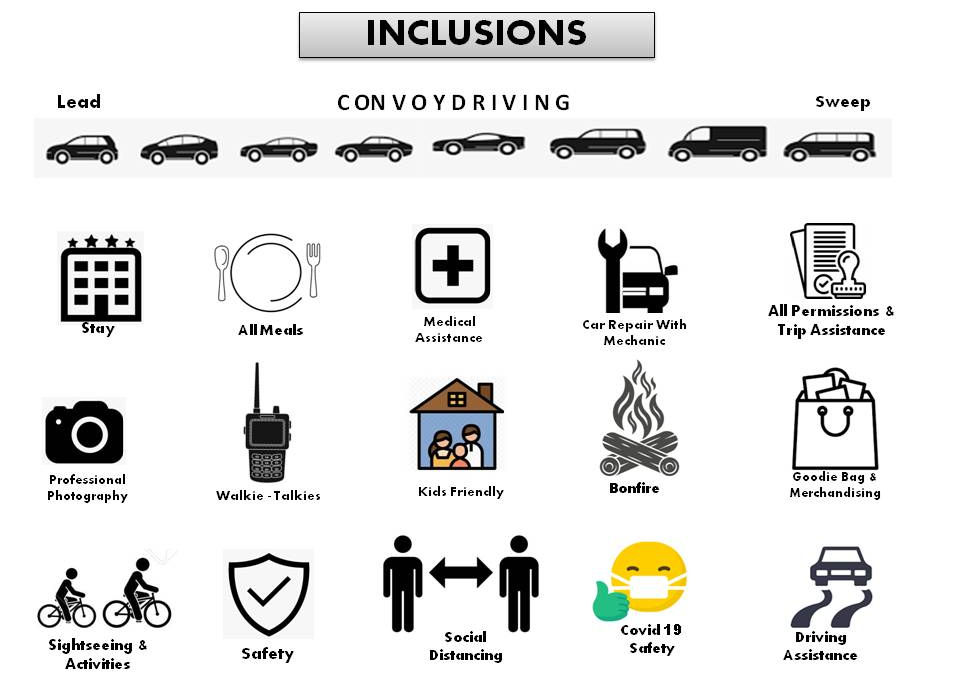 • 100% Refund before 31st April 2022 • 80% Refund before 10th May 2022 • No Refund after 10th May 2022 • Cancellation of event by the organizers 100% refund. • Cancellation by participant will have no refund • Cancellation arises out of unseen natural circumstances no refund. • In case of emergency at home/illness etc. 50% will be deducted and rest of the amount may be adjusted in the next trip. • In case of rough weather, we have the full discretion, whether to go ahead with the trip/expedition or not. In case of cancellation due to rough weather no refund. • In case of Road Block to any destination, no refund and you have to pay extra for making alternate arrangements. TERMS & CONDITIONS 1. You need to have your own vehicle. (Vehicle has to be registered on your/family name) 2. Valid Driving License with comprehensive insurance coverage policy. 3. Maximum 4 Person per car is recommended. 4. The charges specified are for each crew member in the participating vehicle and includes accommodation on twin sharing basis along with breakfast, packed refreshments and dinner at the specified halts and night halts as specified in the itinerary, inner line permits, local guides, medical assistance with oxygen and medical supplies, service crew. 5. Buffet- Breakfast and Dinner with choice of Veg and Non Veg. At places you will be provided with packed breakfast. Lunch would be quick snacks like Maggi, Bread Omelet, Thupka, Noodles and Veg Thali. Few places would serve very basis simple vegetarian food. Precautionary Measures – COVID 19 • Rooms are sanitised for the safety of our guests. • Social distancing throughout the trip • Wearing masks by all members of our team. • Updated instructions and procedures for all team members: general hygiene standards and instructions on hand disinfection.