The boundless soul Vaneeta Kang is the only female in India to start the self drives and Lead all her Expeditions.
Vaneeta Kang went boundless the moment she quit her high paying job as a marketer and chased her passion to start this venture of adventure travel.
Go Boundless was started in 2014 and it was first of its kind. Targeting an untapped market of car owners and families for pure adventure experience, Vaneeta created a unique platform. She was not only talking to experts but also considering novices who owned a good vehicle but always felt unequipped for unexplored roads. Go Boundless created a checklist of all the things needed and designed trips suitable for every age group and interest. Vaneeta believes that everyone deserves to get a dose of adventure, without facing any bias of age or sex. It's just about going boundless!
The Go Boundless curates trips to unexplored destinations and provides everything needed to make it a memorable journey. Every trip is led by her and supported by a complete back-up team comprising of mechanics and first aid experts.
Apart from Expeditions vaneeta kang is a well known name in Motorsport federnity and participated in all top notch off-roading and Motorsports Events of India.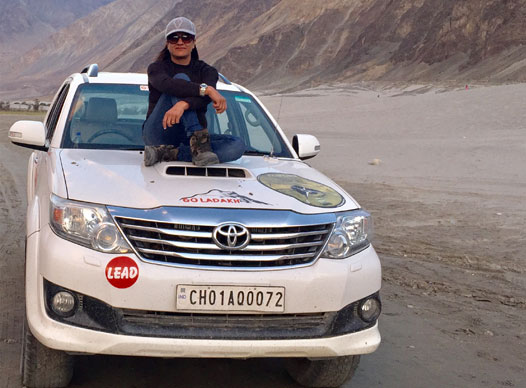 Coup De Dame Trophy Winner- Raid De Himalayas – 2013
1st in Ladies category and 14 Overall- SJOBA Rally 2014
Coup De Dame Trophy Winner and 12 Overall – Raid De Himalayas 2014
Volunteer at Pit and Grid at Formula racing at Budh International Circuit- 2014
Participated in INRC rounds- Chikmanglur and Jaipur for Team TATA- 2014
Participated as official at Desert Strom 2015
Won Multiple Autocross/ Speed sprints of North India and also was a part of Team Thunderbolt- 2013-2015
2 Overall in Mahindra Great Escape Chandigarh and 1 in Ladies Category – 2015
Selected for Mahindra Off-road Trophy Championship (Finals) for Igatpuri – 2015
Second Runners up in Mahindra Off-roading Trophy in Ladies category- Igatpuri- 2015
Ultimate dessert challenge Bikaner – 1st in 1600 category (2017)
1st In SUV Ladies category at Slush X – ORAZ – 2019
1st Runner ups SUV Category – Ultimate Desert Challenge – 2021
Participated with Dr Deepa Malik ( Paralympian, Rio 2016 , Khel Ratna, PadmaShri, Arjuna Awardee) in Nasir Hussain Memorial Drive in November 2021.
Worked as a Marketing Head for Paul Merchants ( Western Union Money Transfer)
Professional Driver
Invited by Air India and got an opportunity to represent India in Denmark to promote Travel,
Empowering Women
Fitness Freak
Making a Difference and giving back to society
Helping rural tourism
Helping to establish libraries in remote area schools
Go Boundless – Where Fun with Safety Begins
Exploring uncharted destinations has been my passion since childhood. Having spent my growing up years in Shimla gave me a lot of opportunities to wander to the various quaint nooks and crannies of the queen of the hills. Over the years, the passion of exploring combined with my passion for driving led me to the arena of competitive car rallies across the country. Competing on some of the toughest terrains in the Himalayas gives you the adrenaline rush to last you a lifetime. Now I look forward to help everyone discover the unseen and less explored destinations across the globe and appreciate the wonderful planet.
Motor Sports
News Coverage