Go White Spiti (December)
Dare to Drive
Vehicle- 4x4 Vehicles only with Snow Chains
9th December - 16th December 2023
(7Nights/ 8 Days)
There is an old saying-
"Difficult roads often lead to beautiful destinations"!!!
Inviting Brave Hearts to venture out and explore spiti valley in pristine white colours of snow with frozen river beds and beautiful wide valleys!!!
We would like to share the following information before you plan to drive to Spiti in winters!!!
Harsh Weather Conditions and Sub Zero Temperatures
The minimum temperature in Kaza goes down to -20˚C and will further drop as the winter progress. It's colder than your freezer at home. There are many places in the world which might be colder than spiti and you may not find the luxury of brands to keep you warm enough neither do the houses in spiti have central heating. Inside temperature of the house is around -1 degrees.
Road Condition- Snow on the road
While driving to Spiti in winters you will surely find ice and snow on the road. Roads are maintained by the GREF and they are not very regular in cleaning the Snow. This means the road will be slippery and you will have to be extra careful while driving on it.
Driving on the Hindustan Tibet highway in Kinnaur valley can be very unpredictable. Be prepared for ANYTHING- Shooting stones, landslides, ice and frozen roads, slush, water crossings, heavy snow fall, freezing temperatures etc. Expect the unexpected on this trip and be prepared for an chilling adventure!!!
Go Boundless Team has expertise in snow driving. Before starting the trip we will provide you complete guidance.
4×4 vehicle and Snow Chains are mandatory for the drive.
Vehicle Trouble and Preparations
Sub zero temperature can cause a lot of troubles in your vehicle. Diesel driven cars are prone to more problems due to freezing than petrol driven cars.
There won't be any mechanics available in Kaza in the winters. Go Boundless team has expert mechanics travelling along with the convoy who will help fix minor problems in your car.
It is mandatory that your car should be serviced properly and you must follow the below mentioned instructions-
Only use winter grade engine oil and coolant.
Do not mix water in the coolant.
If possible, mix diesel with Anti-Gel or anti freeze chemicals.
Keep your tank full and try not to park your car in the open.
There won't be any puncture shops after Kinnaur, so make sure all tyres
Including the spare are in good shape.
Go Boundless Team has an equipped backup vehicle to winch you out wherever required but we request you to prepare well.
Toilets (Dry Toilets)
In winters, the sewage systems freeze, so you have to make do with Dry-Toilets. Dry toilets do not smell. Also, make sure you flush with a shovel full of compost after you are done.
Stay and Food
All the hotels are closed at this time. Few home stay options are available in Kaza. Go Boundless       has an exclusive tie-up with locals in Kaza. All the accommodations are booked in advance. You will get a chance to experience the real hospitality of the people of Spiti by staying with them in their warm houses. Also, you will be contributing directly to the village economy.
Food is included in the package but we suggest you to carry emergency ration with you. You should have a week's worth of dry rations to eat. Just in case you get stuck in a landslide or an avalanche. You should be prepared to face the harsh face of nature. (Things to carry list will be shared separately)
We want that whosoever is joining us for this trip should be well prepared; mentally and physically!!!
Are you ready for an adventure of a lifetime? If yes, you will be greeted with the real Spitian culture and lifestyle and the landscapes, which only a few lucky ones have the chance to witness!!!

Group Size- 20-25 People Only
Occupancy-Double/ Shared Home Stay
Vehicle- 4×4 Vehicles only with Snow Chains
Why Go Boundless?
Planning the route and itinerary to include the "must see" sights
Coordination of the convoy
Local guidance and support from experts
The best boarding and lodging available en‐route
Medical supplies
Service support
Liaison with the local authorities for inner line permits
Liaison with locals for making all safety arrangements.
Destination

Departure

Chandigarh - Rampur – Nako - Tabo - Dhankar – Kaza- kee Monastery - Langza- Hikkim -Losar- HIKKIM

Departure Time

9th December 2022

Return Time

16th December 2022

Included

Breakfast

Dinner

Evening Tea

Home Stay

Lunch

Not Included

4 Star & 5 Star

Alcoholic Beverages
Tour Plan
9th December - Chandigarh- Reporting and Scrutiny
This trip is not normal like others so we need lots of preparations and checks pre travel. Reach Hotel GK International Sector 35 maximum by 4.00 pm. Go Boundless team will do a complete scrutiny of the vehicles and things to carry. In the evening we will have a drivers briefing so that next day we can leave on time. (We will provide you car security and things to carry list after you book your adventure) There are no flights and hence no escape route in case something goes wrong. A preparation is the key. Kindly follow the instructions carefully. In case our team would feel that you and your vehicle is not ready for the trip we have to leave you back!!!
Accommodation: - GK International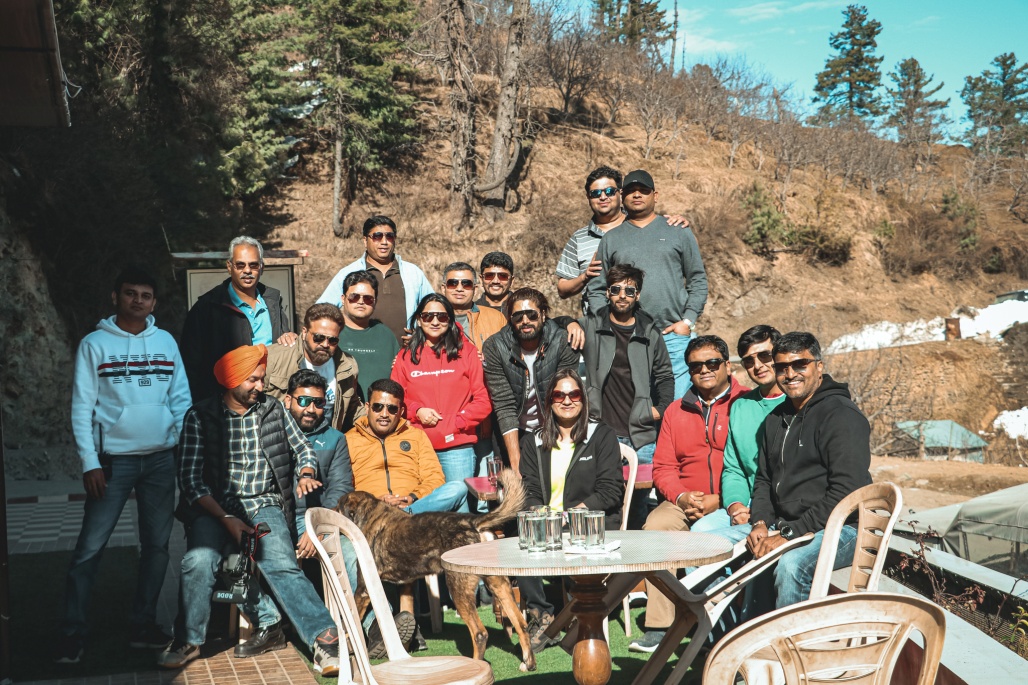 10th December - Chandigarh- Rampur
Start will be at sharp 8.00 am. After leaving queen of hills Shimla we will drive into Himalayan countryside through Apple orchards and villages along river Satluj. Today's drive is a warm up day to understand the convoy driving and gel well with your co travelers. Relaxed driving day with ample of breaks .Reach Rampur by the evening and enjoy Heritage stay with bonfire and dinner!!!
Accommodation: - Nau Nabh Heritage Hotel, Rampur
Meals Included- Breakfast + Lunch + Evening Tea + Evening Snacks + Dinner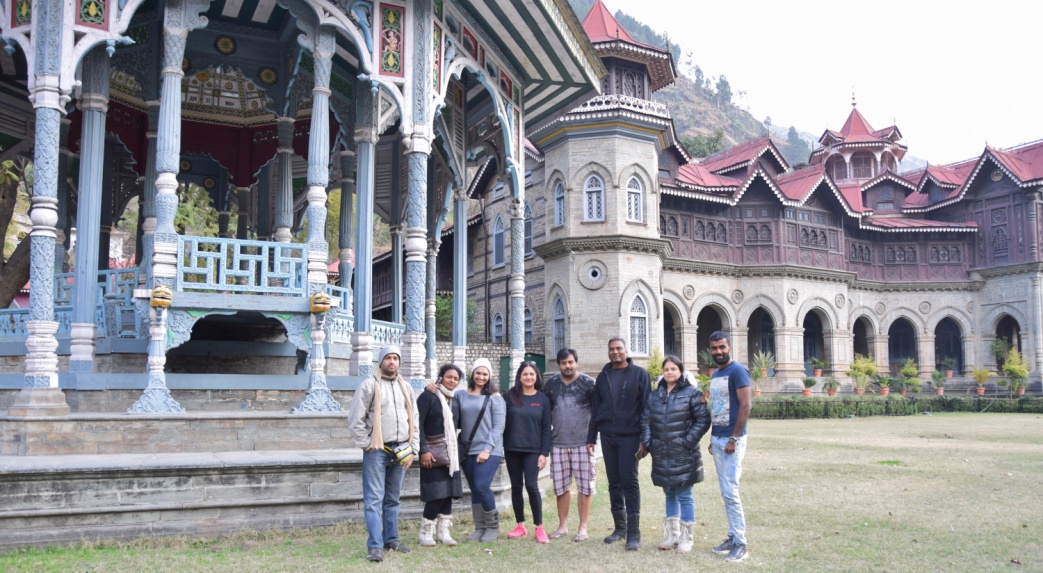 11th December – Rampur -Nako - Tabo
We will leave early as it's a long and thrilling drive today. Thrill starts today!!! You may feel that you are the only one to drive on these roads but you might encounter few brave hearted taxi drivers and locals who use their 2 wheel drive vehicles on ice and snow roads.
Experience the frozen Nako Lake on the way.
Our Today's stopover is Tabo. It's going to be biting cold. Try some Cognac with honey before you go to sleep!!! It will keep you warm in this freezing weather.
Accommodation: - Guest House
Meals Included- Breakfast + Afternoon Snacks + Tea + Lunch + Evening Tea + Evening Snacks + Dinner

12th December - Tabo-Dhankar – Kaza- kee Monastery- Chichem
Relax in the morning. Visit Tabo Monastery and gather some good vibes. Tabo to Kaza is Just 48 Kms but the most thrilling snow tracks. Take a drive through from Dhankar monastery and reach kaza by Lunch time. Picnic Lunch and bonfire on the snow covered river bed, drive further to Kee Monestery and Kibber Village. Once back in our cozy home stay we spend time sitting around Soktsel (A warm sitting area) and exchanging stories! If there is a clear sky we dare to go out and take in the views of the Milky Way!
Accommodation: - Home Stay
Meals Included- Breakfast + Lunch + Evening Tea + Evening Snacks + Dinner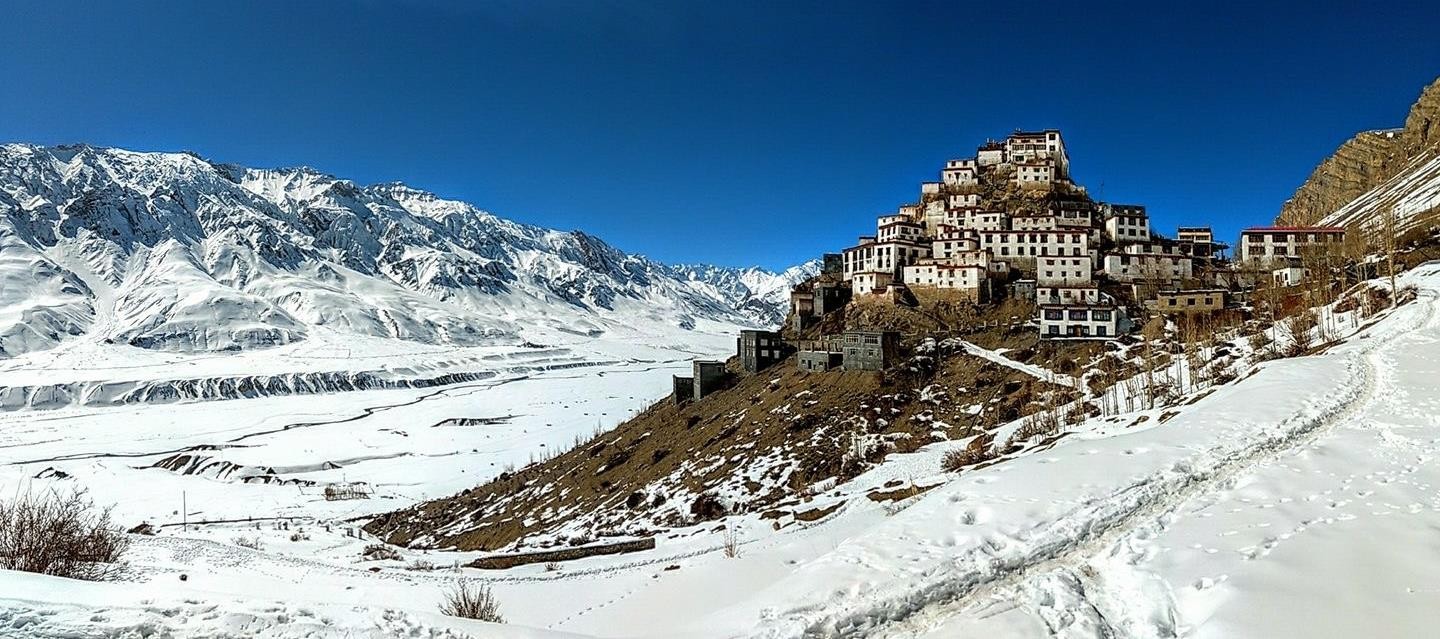 13th December - Kaza-Losar-Kaza
Wake up and go out in freezing morning. Try to help locals learn how they fight the harsh winters. Today we will explore snow covered Trails. Relaxed morning and take a stroll around. Today we will try to visit the most amazing villages around – Langza and Hikkim.  Reaching Langza- hikkim in winters is a challenge but we will try to visit this beautiful village.
Accommodation: - Home Stay
Meals Included- Breakfast + Afternoon Snacks + Lunch + Evening Tea + Evening Snacks + Dinner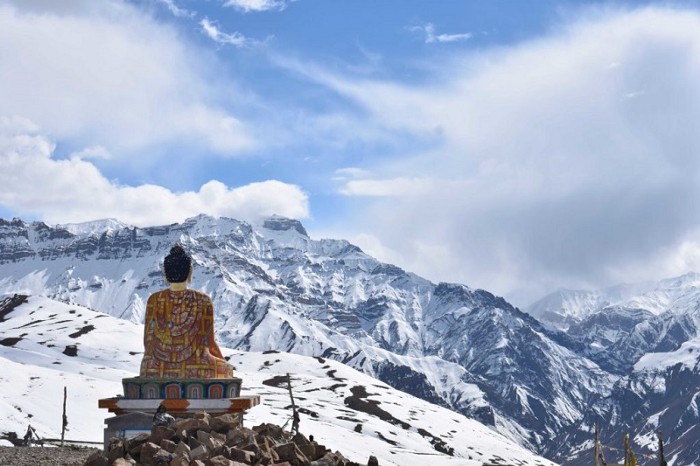 14th December - Kaza- Langza- Hikkim- Kaza
Today, experience a mesmerizing drive through the snow. Reaching Losar, totally depends on the snow condition but our endeavour will be to reach till the farthest point towards Losar; the idea is to explore this beautiful white snow covered desert. Come back in the evening and visit local market to buy some souvenirs for your loved ones. Early night as we have to leave before sunrise next morning.
Accommodation: - Home Stay
Meals Included- Breakfast + Afternoon Snacks + Lunch + Evening Tea + Evening Snacks + Dinner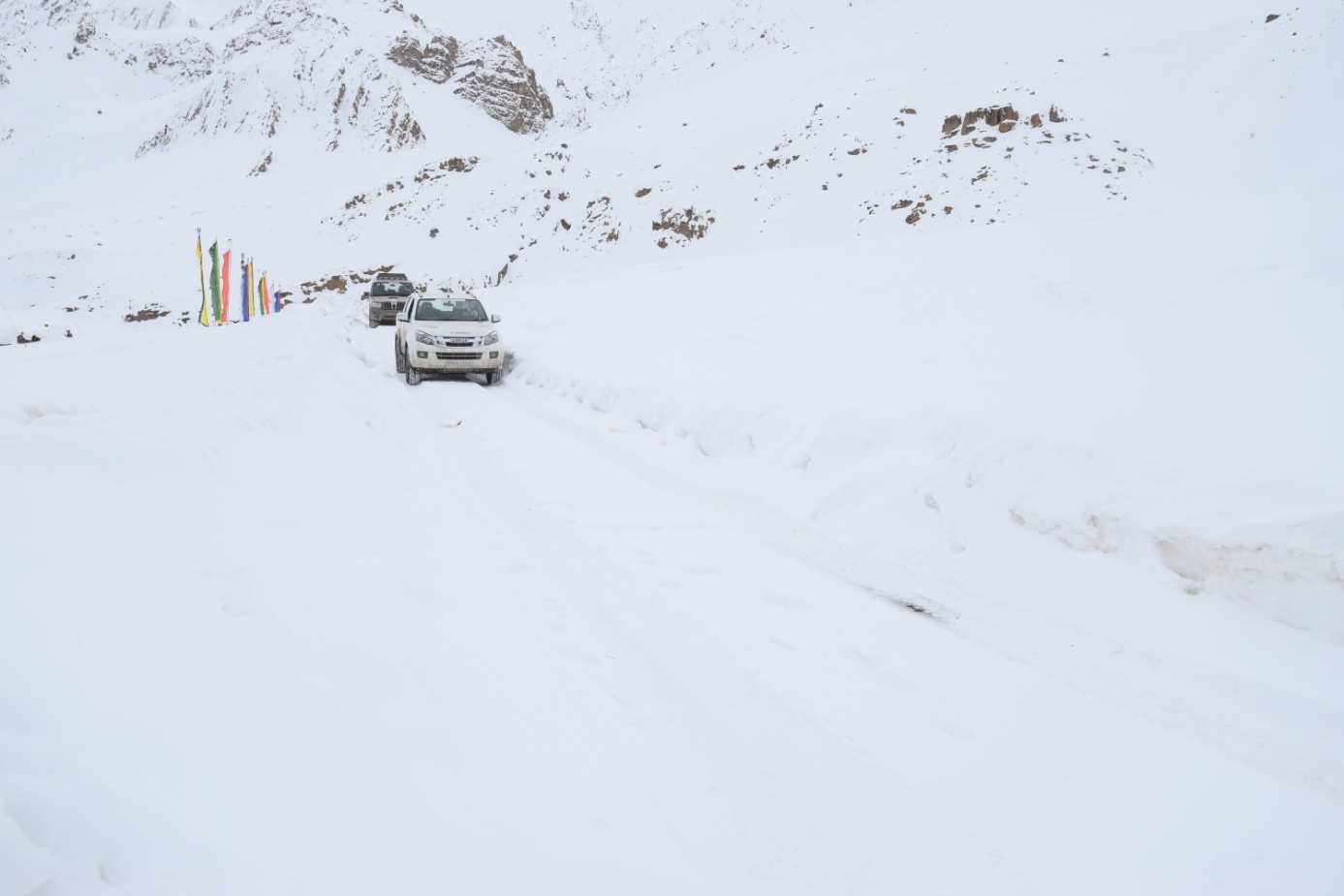 15th December - Kaza- Rampur
This is going to be a long day!!! We will leave very early morning around 5.00 am. Reach Rampur by late evening. Overnight stay in a Heritage Hotel. Take a much required shower after 4 days and exchange goodbye notes with your co-travelers. Last get together dinner of the trip!!! Accommodation: - Nau Nabh Heritage Hotel, Rampur  Meals Included- BF/Lunch/Dinner
16th December – Rampur-Chandigarh
Back to Civilization with cherished memories!!!
Gallery
Go White Spiti- Dare to Drive
WHITE SPITI 2022
Day-1
17th Feb
Chandigarh
REPORTING
Day-2
18th Feb
Chandigarh- Rampur
213 Kms
Day-3
19th Feb
Rampur- Tabo
247 Kms
Day-4
20th Feb
Tabo -Dhankar -Kee-Chickem- Kaza
60-70 Kms
Day-5
21st Feb
Kaza- Losar- Kaza
100 Kms
Day-6
22nd Feb
Kaza- Langza-Hikkim-Kaza
40-50 Kms
Day-7
23rd Feb
Kaza- Rampur
294 Kms
Day-8
24th Feb
Rampur-Chandigarh
213 Kms
Inclusions
Accommodation in a Hotel in Chandigarh & Rampur. Home stays at Tabo & Kaza
All Meals (As mentioned in the itinerary)
Pilot Vehicle
24X7 Backup with mechanic
24X7 Medical Supplies with Oxygen Cylinders
Snow Driving and off-roading Experience
Service Backup
All Permissions
Merchandising of Go Boundless
Radio Communication Sets
Guidance and support
Helicopter Services in case of Emergency on Extra cost
Exclusions
Vehicle
Does not include fuel costs for driving to & fro locations and costs that are incurred on the way.
Road Taxes and Tolls
Does not include tips or other incidentals
Alcoholic beverages
Entrance charges to monasteries, and camera charges
Items and expenses of a personal nature
Extra snacks, cigarettes, laundry etc.
Personal and Vehicle Insurance
Snow Chains
Anything not mentioned in inclusive
Terms & conditions:-
80% payment confirmation against booking, rest 20% before 15th January 2023
Cancellation before 10th January 2023; 100% Refund
Cancellation before 20th January 2023; 80% Refund
Cancellation after 20th January 2023; No Refund
Cancellation arises out of unseen natural circumstances no refund.
All participants would be required to sign an Indemnity Form before the start of the expedition, without which they would not be allowed to take part in the expeditions. (We will share the format)
In case of rough weather, we have the full discretion, whether to go ahead with the trip/expedition or not. In case of cancellation due to rough weather, we will provide you with an alternate trip. The dates and the cost of trip may vary. In such cases following will apply: -
Cost of alternate trip > Cost of booked trip: Customer has to pay extra difference in cost
Cost of alternate trip < Cost of booked trip: Customer will be paid back the extra difference in cost.
In case we are unable to find a replacement for the trip, customer will get the full refund
In case of Road Block to any destination, no refund and you have to pay extra for making alternate arrangements.