old Go Boundless Deep Desert old
Padharo Mhare Desh
MANDAWA- KHIMSAR- SAM DUNES - JAISALMER- LONGEWALA- BIKANER
23rd December– 30th December 2022
(7Nights/ 8 Days)
Go Boundless Deep Desert is an ideal combination of Luxury, Adventure and offbeat travel. Hand it to the movies that many of us have fallen in love with Rajasthan but there are very few who have explored the real Rajasthan.
For a true traveller, nothing is more exciting as Group Travelling that gives you a chance to relive your teenage days and go back down the memory lane.
Rajasthan known as the land of Kings, brave warriors, camels, bandhini, fascinating forts and palaces, romance, wars and tragedy, however, "Go Boundless Deep Desert" is much more than that. Go Boundless Deep Desert combines the thrill of driving with the experience of the finest, hand-picked heritage hotels in Rajasthan. The locations and hotels are specifically chosen to give you an experience of the diverse and rich heritage of the Royal State of Rajasthan.
Experience the authentic Rajasthan with Go Boundless
Destination

Departure

MANDAWA- KHIMSAR- SAM DUNES - JAISALMER- LONGEWALA- BIKANER

Departure Time

23rd December 2022

Return Time

30th December 2022

Included

4 Star & 5 Star

Breakfast

Dinner

Evening Tea

Lunch

Not Included

Alcoholic Beverages

Home Stay
Tour Plan
Delhi to Mandawa: 260 kms Chandigarh to Mandawa: 419 kms Jaipur to Mandawa: 169 Kms Mandawa is located in the Shekhawati region of Rajasthan. Renowned for its frescoed Havelis and Palaces, Shekhawati is aptly termed the 'Open Air Art Gallery 'of Rajasthan. Reach Mandawa by Lunch time. After lunch you can sit back and relax or you can take a walking tour of the painted Havelis of some of the leading business families of the country. Some of the better known Havelis of Mandawa are Chowkhani Haveli, Goenka Haveli, Saraf Haveli, Ladia Haveli. In the evening meet your fellow travellers and orientation session with evening Drinks and dinner.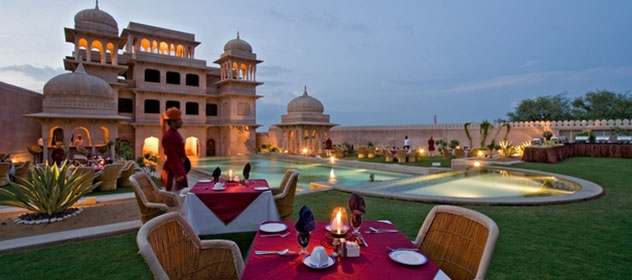 24th December – Mandawa – Taal Chappar -Khimsar
Drive from Castle Mandawa to Khimsar Fort via Taal Chhapar Distance to Taal Chhapar 98 km, driving time 1:25 hrs Distance to Khimsar Fort 158 km, driving time 2:40 hrs Early checkout after breakfast from Mandawa and we will reach Taal Chhapar after an hour drive. Talchhapar Sanctuary is situated in Churu district of North-Western Rajasthan and is famous for endangered black-buck. Other wild animals found in the sanctuary are chinkara, fox, jungle cat, rojra, wild boars along with many resident and migratory birds. It lies on the way of migratory pass of many birds and therefore it is also popular with bird lovers. Talchhapar, actually a flat saline depression, has a unique ecosystem. The sanctuary area is mostly covered by grasses with a very few and sparse trees of Khejri, Salvadora, Ber, Ker and Neem.

After spending an hour at the scantuary, we will drive on to Khimsar. Our Night halt is at Khimsar Fort. Enjoy your evening by watching the most beautiful sunset from the terrace of the fort. You can spend hours with your DSLR clicking the different hues of the sun.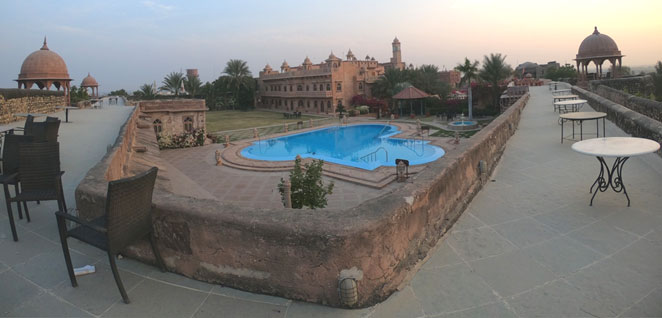 Later in the evening explore the property!!!Go and have a look at the royal garage which is home to a row of vintage cars-gleaming and immaculate, take a stroll around and Enjoy puppet show and dinner at the old fort.
25th December –Khimsar- Sam Dunes
After Breakfast we will start towards Jaisalmer. Since we always opt for offbeat locations we will be staying at the outskirts of Jaisalmer, around 40 K.M. southwest from the main city. Our campsite is beautiful, less populated and yet a majestic beauty of its own.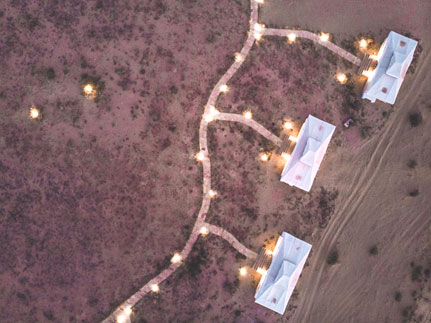 After we freshen up just sit back and enjoy the Rajasthani hospitality in the middle of the Thar Desert. Camp under the stars as Folk musicians entertain you around the camp fire.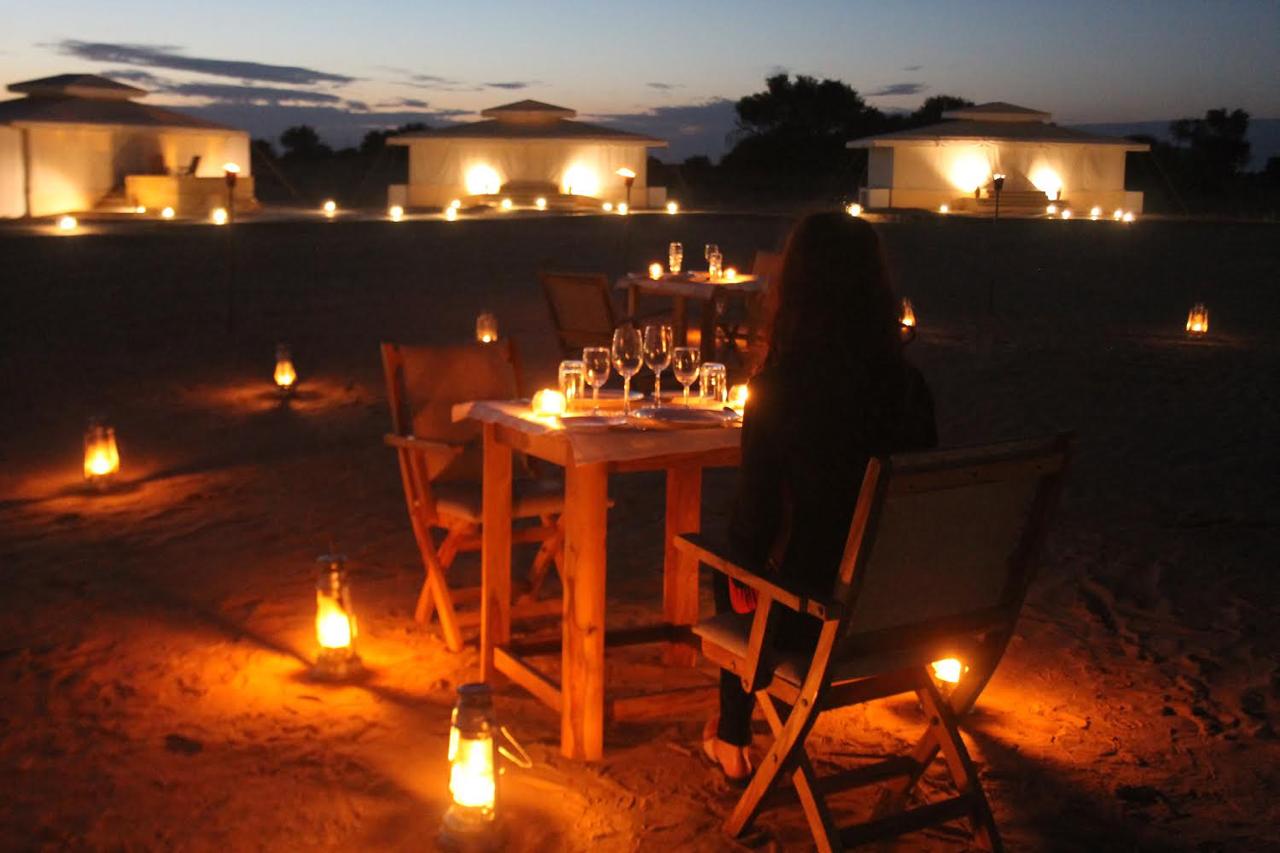 26th December – Sam Dunes
Let's end the last day of the year in a special way. Today's drive is Remote, Rural, Romantic and Patriotic. Visit Tanot and Longewala which are some of the villages deep inside the Thar Desert. Today's drive is very scenic and special as we will be visiting Tanot and Longewala war memorial. The Battle of Longewala was one of the first major engagements in the western sector during the Indo-Pakistani War of 1971, fought between assaulting Pakistani forces and Indian defenders at the Indian border post of Longewala in the Thar Desert of Rajasthan state in India. After Visiting Tanot Mata temple we will head towards Longewala, with the Thar desert all around us. Longewala War Memorial has a photo gallery and an option for a short movie viewing to depict the story of 71 war. After Paying Tribute to our soldiers we will head back.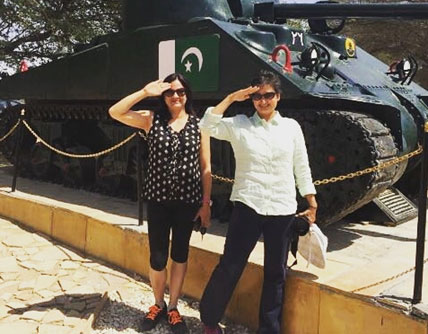 Picnic Lunch on the way back, reach the campsite by the evening and relax. Get ready for the evening Gala New Year's party with local music and DJ Enjoy your evening cocktails at the dunes and we will try star gazing at night. Campfire, entertainment and memories :) say bye bye to 2021 in the middle of Thar Desert
27th December – Dune Bashing
Welcome 2022 with beautiful and relaxed morning. After healthy brunch we will head to our Playground. Fun-filled Dune Bashing for an exhilarating experience of driving in the 'Sea of Sand'. Stay on the dunes, learning, practising what you've already learnt and enjoying the desert with no one else around!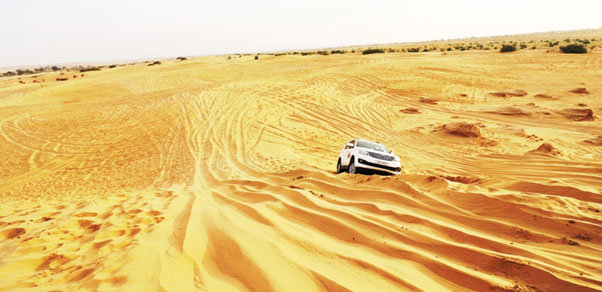 Enjoy on the dunes till late evening and come back to the Campsite!!! Relax and enjoy the last evening in this beautiful Campsite
28th December – Sam Dunes- Jaisalmer
Today is a local sightseeing and free day to Explore Jaisalmer City.

Jaisalmer, the "Golden City," is located on the westernmost frontier of India in the state of Rajasthan. Close to the Pakistan border, the city is known for its proximity to the Thar Desert. It is a World Heritage Site. You can visit Jaisalmer Fort and Amar sagar Lake and Gadisar Lake.
29th December – Jaisalmer – Bikaner
After breakfast we will start our journey towards Bikaner. Today's drive is again very scenic as we will take a different and offbeat route. You will see multiple deer, camels and peacocks enroute. We will reach Bikaner by the evening. Today's property is Huge and beautiful to explore. Enjoy your evening Tea by the lake side. Last dinner of the trip with fellow travellers for you to relish the wonderful experiences of this memorable trip.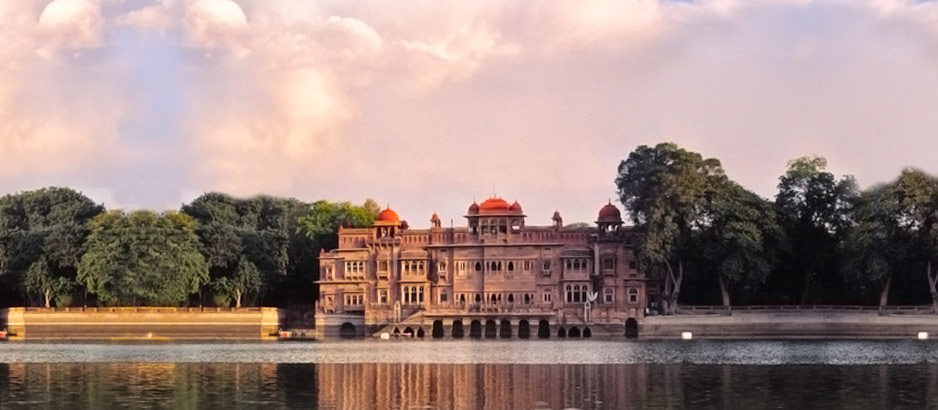 27th December – Return Home
After Breakfast, return Home as per your comfort.
Cost for 7 nights/ 8 days:-
INR 64500/- per person on twin sharing (5% GST Extra)
Single occupancy charges are 40% extra
Cost for accompanying children age below the 05 is free of cost and between the Age 5 to 12 Cost is on Request.
Cancellation Policy:
80% payment confirmation against booking. Rest 20% 15 days before the travel.
Cancellation before 30 Days, full Refund
Cancellation before 20 days, 70% Refund
Cancellation before 10 days, No Refund
Cancellation of event by the organizers 100% refund.
Cancellation arises out of unseen natural circumstances no refund.
"Boundless Journeys"
Current A/c no 2479201000942 Canara Bank, Sector 19, Chandigarh. IFSC Code CNRB0002479
"Go Boundless"
Current A/c no 50200065852270 HDFC Bank, Sector 8, Chandigarh. IFSC Code HDFC0000107
Gallery
Experience the authentic Rajasthan with Go Boundless
Route Plan
DATE
DAY
DESTINATION
DISTANCE
TRAVEL TIME
23RD DECEMBER
DAY-1
MANDAWA
MANDAWA
24TH DECEMBER
DAY-2
MANDAWA-KHIMSAR
229 KMS
3-4 HOURS
25TH DECEMBER
DAY-3
KHIMSAR-SAM DUNES
330 KMS
5-6 HOURS
26TH DECEMBER
DAY-4
SAM DUNES- LONGEWALA- NEW YEAR EVE
250 KMS
DAY EXCURSION
27TH DECEMBER
DAY-5
REST DAY AND DUNE BASHING
DAY EXCURSION
28TH DECEMBER
DAY-6
SAM DUNES- JAISELMER
40 KMS
1 HOUR
29TH DECEMBER
DAY-7
JAISELMER- BIKANER
330 KMS
5-6 HOURS
30TH DECEMBER
DAY-8
BACK HOME
Why Travel with Go Boundless-
Planning the route and itinerary to include the 'must see' sights
Coordination of the convoy
Local guidance and support from experts
Safety Measurements
Lead & Sweep vehicle
First Aid arrangements
Extra drivers on demand
Basic service backup
Stay at all the offbeat and best available places.
Dune driving tips
Merchandising of Go Boundless
Munching Goody Bag
Family and Kids Friendly
Climate- It's a Semi desert region. During December, temperature range from 20 degrees during the day to -2 at night
Precautionary Measures – COVID 19
Nothing is safer than Driving Your own Car (On the Way, Please avoid stopping at any Dhaba till Mandawa.
Sanitation of The vehicle on daily Basis.
Touch less experience across check-in, checkout and in restaurant.
Rooms are sanitised for the safety of our guests.
Social Distancing at breakfast area.
Social distancing throughout the trip.
Wearing masks by all members of our team.
Updated instructions and procedures for all team members: general hygiene standards and instructions on hand disinfection.
Inclusions
PLACE
ATTRACTIONS
STAY
TYPE
MEALS INCLUDES
Stay on Double Occupancy
MANDAWA
PAINTED HAVELIS, DUNE DRIVING, STUD FARM
CASTLE MANDAWA
4 STAR
EVENING TEA, EVENING SNACKS, DINNER
TAL CHAPPAR/ KHIMSAR
WILDLIFE, VINTAGE CARS, KHIMSAR FORT, DUNE VILLAGE  RESORT, PUPPET SHOW, EVENING ENTERTAINMENT
KHIMSAR FORT
5 STAR
BREAKFAST, AFTERNOON TEA, LUNCH, EVENING TEA, DINNER
SAM DUNES
CAMEL RIDE, HIGH TEA ON DINES, DUNE DRIVING, PICNIC LUNCH ON DUNES, COCKTAILS NIGHT ON DUNES, BONFIRE, CULTURAL EVENINGS, COUNTRY DRIVE, BORDER VISIT, LONGEWALA WAR MEMORIAL, TANOT MATA TAMPLE
4STAR
DAY 01: BREAKFAST, AFTERNOON TEA, FARM LUNCH, HIGH TEA ON DUNES, EVENING SNACKS AND DINNER DAY-02: BREAKFAST, AFTERNOON TEA, PICNIC LOCAL LUNCH, COCKTAILS BONFIRE AND SNACKS ON DUNES, DINNER DAY 03: BREAKFAST, PICNIC LUNCH ON DUNES, EVENING TEA, BONFIRE, BBQ AND DINNER
KANAK -LUXURY CAMP
JAISALMER
RANGMAHAL  OR SIMILAR
4 STAR
BREAKFAST, AFTERNOON TEA, PICNIC LUNCH, EVENING TEA, LAVISH BUFFET DINNER
COUNTRY DRIVE, BORDER VISIT, LONGEWALA MEMORIAL
BIKANER
COUNTRY DRIVE, LAKE SIDE STAY, WILDLIFE AND PALACE STAY
GAJNER PALACE OR SIMILAR
4 STAR
BREAKFAST, AFTERNOON TEA, LUNXH, EVENING TEA, LAVISH BUFFET DINNER
Exclusions
Vehicle (Preferably 4X4)
Does not include fuel costs for driving to & Fro locations and costs that are
incurred on the way.
Does not include tips or other incidentals
Alcoholic beverages (you can bring your own booze)
Entrance charges to museums, forts and palaces, and camera charges
Items and expenses of a personal nature
Extra snacks, cigarettes, laundry etc.
5% GST