Pangi Valley – Sach Pass- Shinkula Pass
20th May to 27th May 2023
7 Nights / 8 Days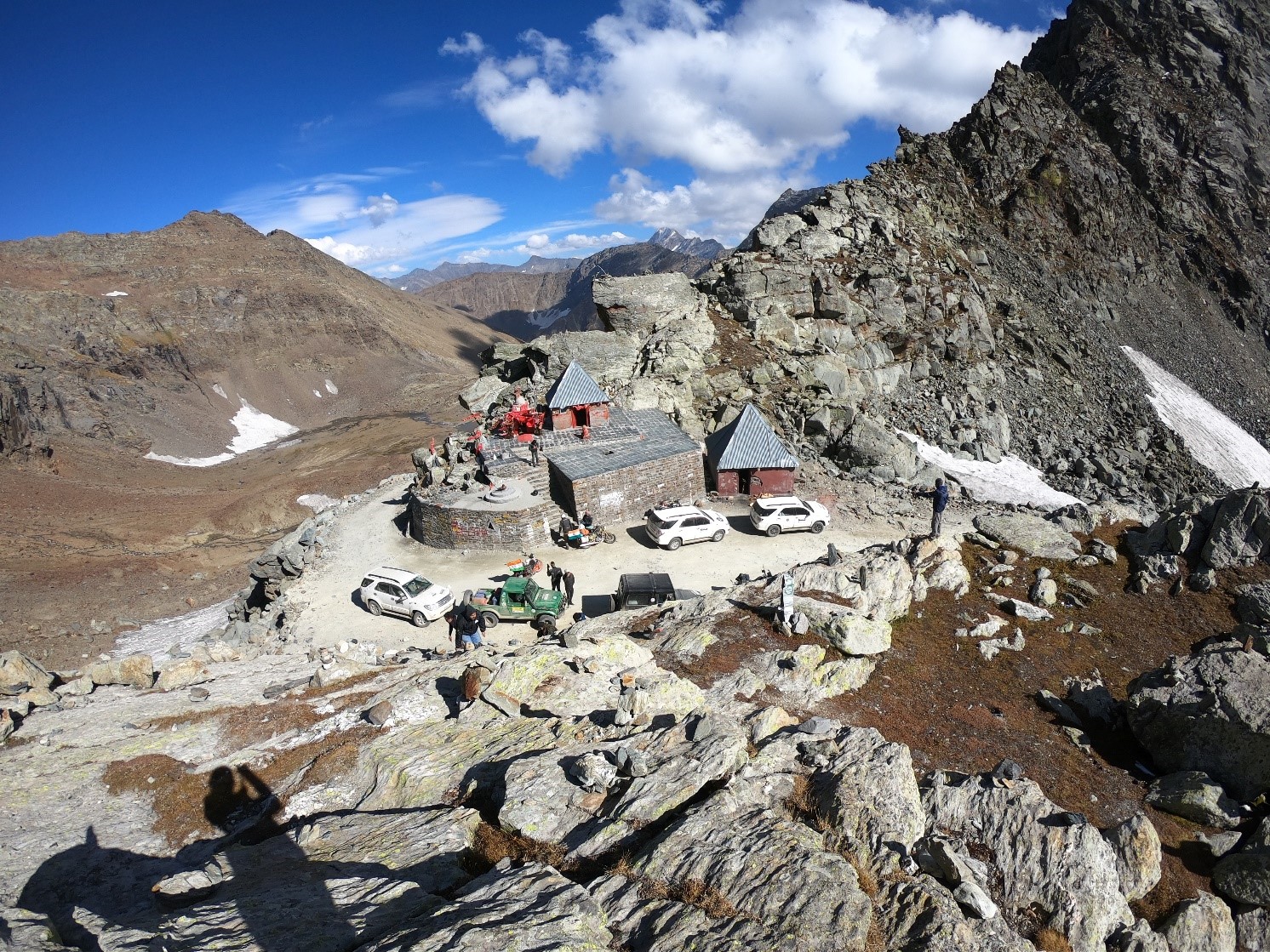 Go 2 Passes High offers a unique experience much more than the common drive. Pangi valley along with its several sub-valleys like Sural and Hundan is an experience of a lifetime. People generally do not spend time here and rush to reach Kishtwar or Ladakh whereas it is a hidden gem to be explored.
Pangi valley is Lush green and abundantly beautiful. Its hues and environment put you in such close contact with nature which cannot be aptly described in words. Most importantly the places have their virginity intact.
After Sach Pass and road from Killar to Jispa gives you the high that comes with sheer adventure. Cliffhanging roads, freezing temperature, Landslides, Nallahs overflowing the roads, and insane water crossings. Not many people have reached these sub valleys. The whole valley has a unique fragrance.
Sach Pass is a 14,500 ft high, high altitude pass which connects Pangi and Lahaul Valley with Chamba. It is also one of the toughest passes in Himachal Pradesh and is a real test of determination and skills of the driver and fitness of the vehicle.
Go Boundless will take care of all details including:
Planning the route and itinerary to include the "must see" sights
Coordination of the convoy
Local guidance and support from experts
The best boarding and lodging available en‐route
Medical supplies
Service support
Liaison with the local authorities for inner line permits
Liaison with locals for making all safety arrangements.
The itinerary for "Go 2 Passes High" has been designed for gradual acclimatization and to include the best lodging and boarding options available on this route.
Itinerary
| | | | | |
| --- | --- | --- | --- | --- |
| DAY | DATE | DESTINATION | KMS | DRIVING HOURS |
| DAY 1 | 20TH MAY | REACH JALANDHAR | | |
| DAY 2 | 21ST MAY | JALANDHAR- KHAJJIAR- DALHOUSIE | 229 KMS | 6-7 HOURS |
| DAY 3 | 22ND MAY | DALHOUSIE – SACH PASS – KILLAR | 188 KMS | 8-9 HOURS |
| DAY 4 | 23RD MAY | KILLAR- SURAL BHATORI – KILLAR | 70 KMS | DAY TRIP |
| DAY 5 | 24TH MAY | KILLAR – UDIAPUR – JISPA | 150 KMS | 4-5 HOURS |
| DAY 6 | 25TH MAY | JISPA- SHINKULA – KURGIAKH- JISPA | 140 KMS | DAY TRIP |
| DAY 7 | 26TH MAY | JISPA- MANALI | 92 KMS | 2-3 HOURS |
| DAY 8 | 27TH MAY | BACK HOME | | |
Terms & Conditions: –
1. Valid Driving License with comprehensive insurance coverage policy.
2. Maximum 4 Person per car is recommended.
3. The charges specified are for each crew member in the participating vehicle and includes accommodation on twin sharing basis along with breakfast, packed refreshments and dinner at the specified halts and night halts as specified in the itinerary, inner line permits, local guides, medical assistance with oxygen and medical supplies, service crew.
4. Buffet- Breakfast and Dinner with choice of Veg and Non-Veg. Lunch would be mostly Veg.
List of Documents Required: –
– Completed Registration Form
– Signed Indemnity (Will be provided by "Go Boundless")
– Doctors Declaration (Format will be provided by "Go Boundless")
– Copy of the registration certificate of the vehicle
– Copy of the insurance policy of the vehicle
– Copy of driver's license
– Pollution Certificate
– A copy of ID proof for each crew member
Destination

Departure

Reach Jalandhar Jalandhar – Dalhousie – Khajjiar Dalhousie- Bairagarh – Sach Pass- Killar Explore Sural Bathori – Killar Killar- Udiapur- Jispa Jispa – Shinkula Pass – Kurgiakh – Jispa Jispa – Manali Back Home

Departure Time

20th May 2023

Return Time

27th May 2023
Tour Plan
Since people join our expeditions across India, we have kept Jalandhar as a meeting point which is the Ideal place to gather. Reach Jalandhar by early evening and check in to the hotel. In the evening Go Boundless Team will do the sticking and scrutiny of the vehicles. Meet your fellow travellers. Drivers briefing followed by dinner.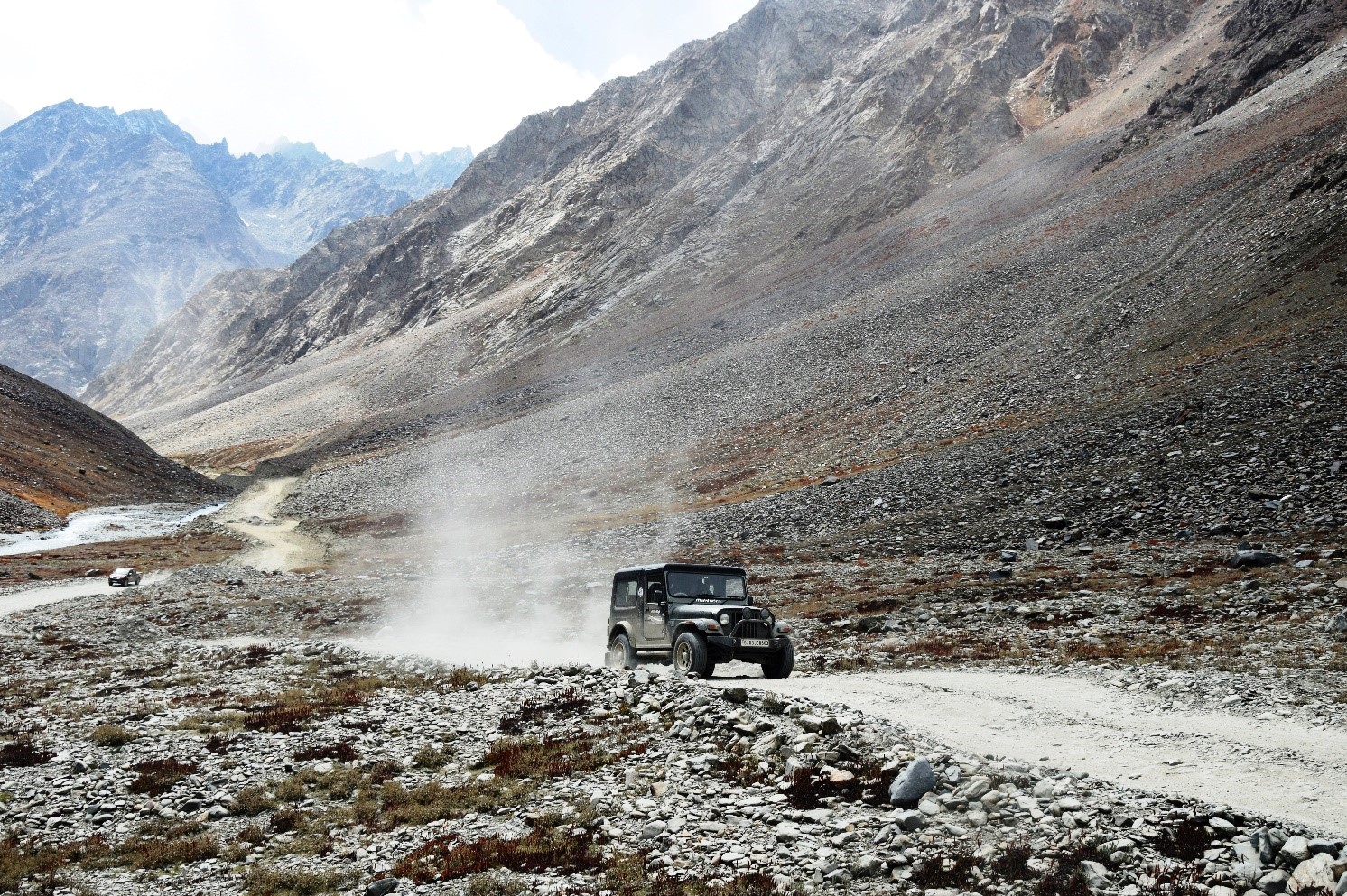 Accommodation: - TBA
Meals Includes: Evening Tea & Dinner
Day-2- Jalandhar – Dalhousie – Khajjiar
Leave early morning.  It's a usual driving day till Dalhousie. Reach the hotel by noon, check in to the hotel and visit Khajjiar.  Khajjiar is a small picturesque saucer-shaped plateau surrounded by dense pine and deodar forests, is one of the 160 places throughout the world to have been designated "Mini Switzerland". Enjoy your Lunch and return back to the Hotel by Evening.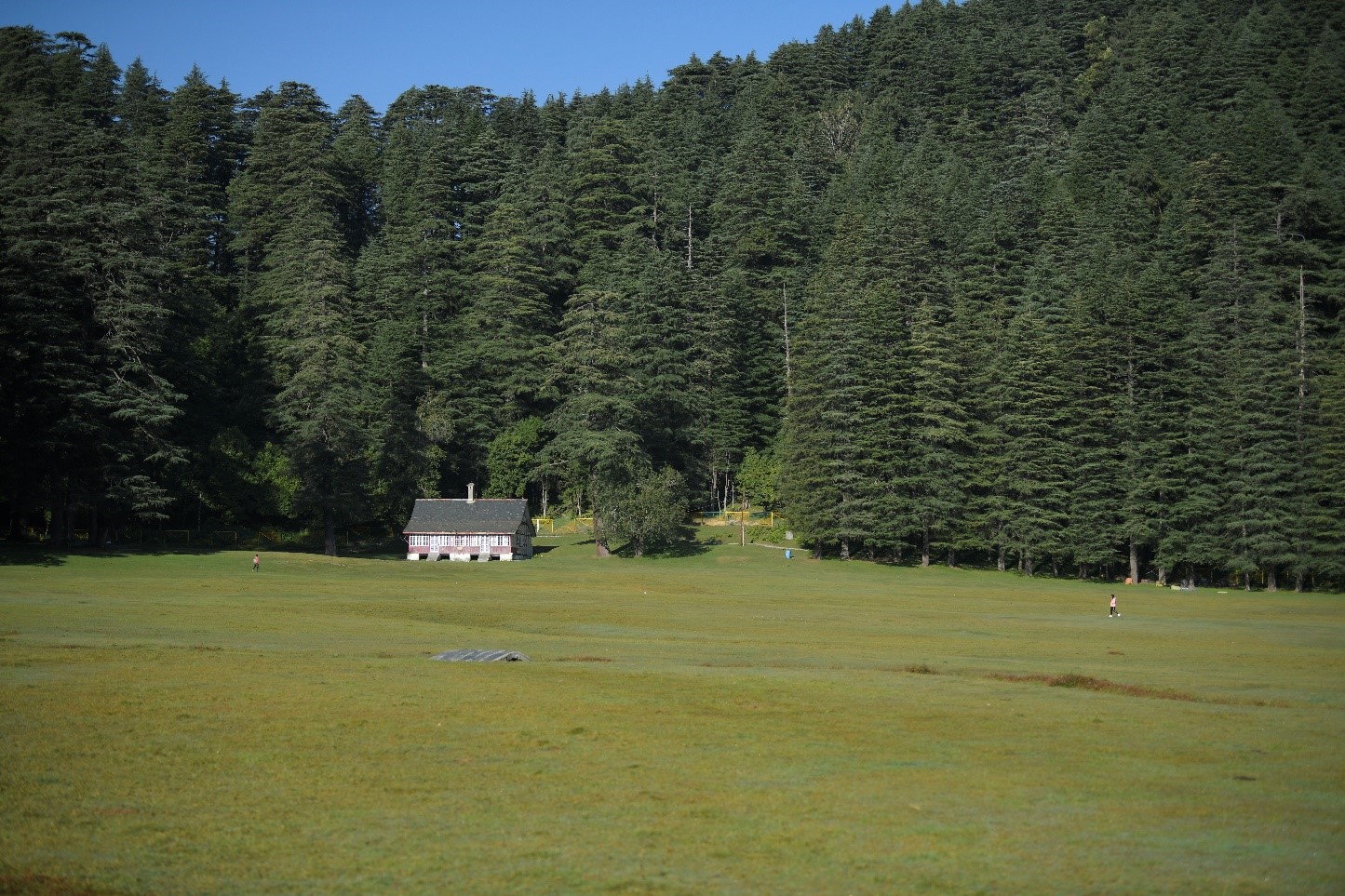 Enjoy Bonfire and BBQ at night.
Accommodation: - Hotel Mongas 
Meals Includes: Breakfast +Tea + Lunch + Evening Tea+ Evening Snacks + Dinner
Day-3- Dalhousie- Bairagarh – Sach Pass- Killar
Early morning start at 7.00. It's always advisable to leave early morning as the route is challenging with many water crossings.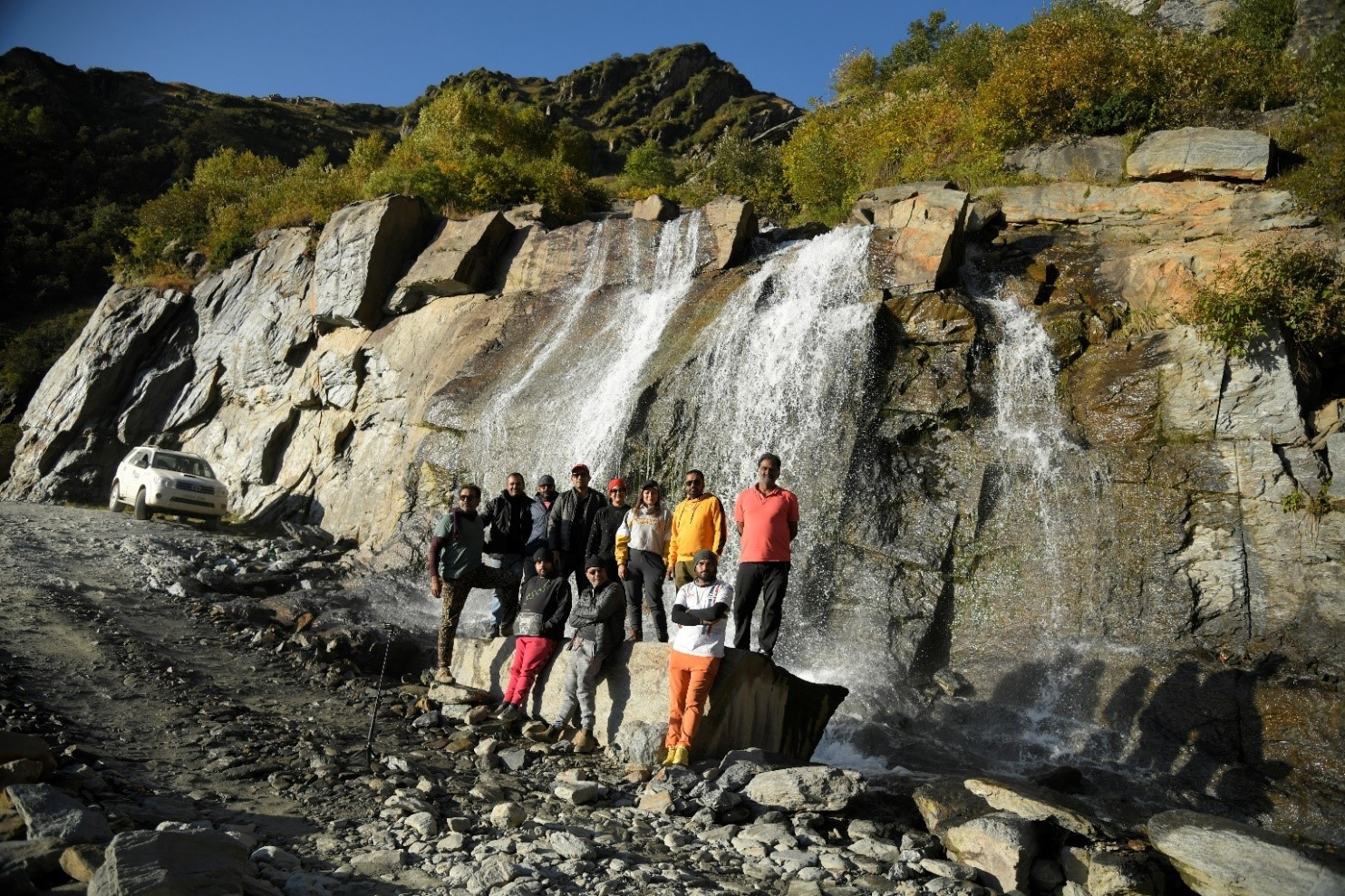 Today we cross Sach Pass going through Bairagarh; which is located at a distance of twenty-seven kilometres from Tissa and is the last village of Churah area. Both Trella (twenty km from Tissa) and Bairagarh are connected with a motor road. The village is a quite retreat overlooking a panorama of the Himalayan peaks. Earlier Trella was the main business centre for Pangi. Being the last bus terminus, all supplies were taken on head load or on the backs of sheep and goats. Mules crossed the pass for first time in early eighties.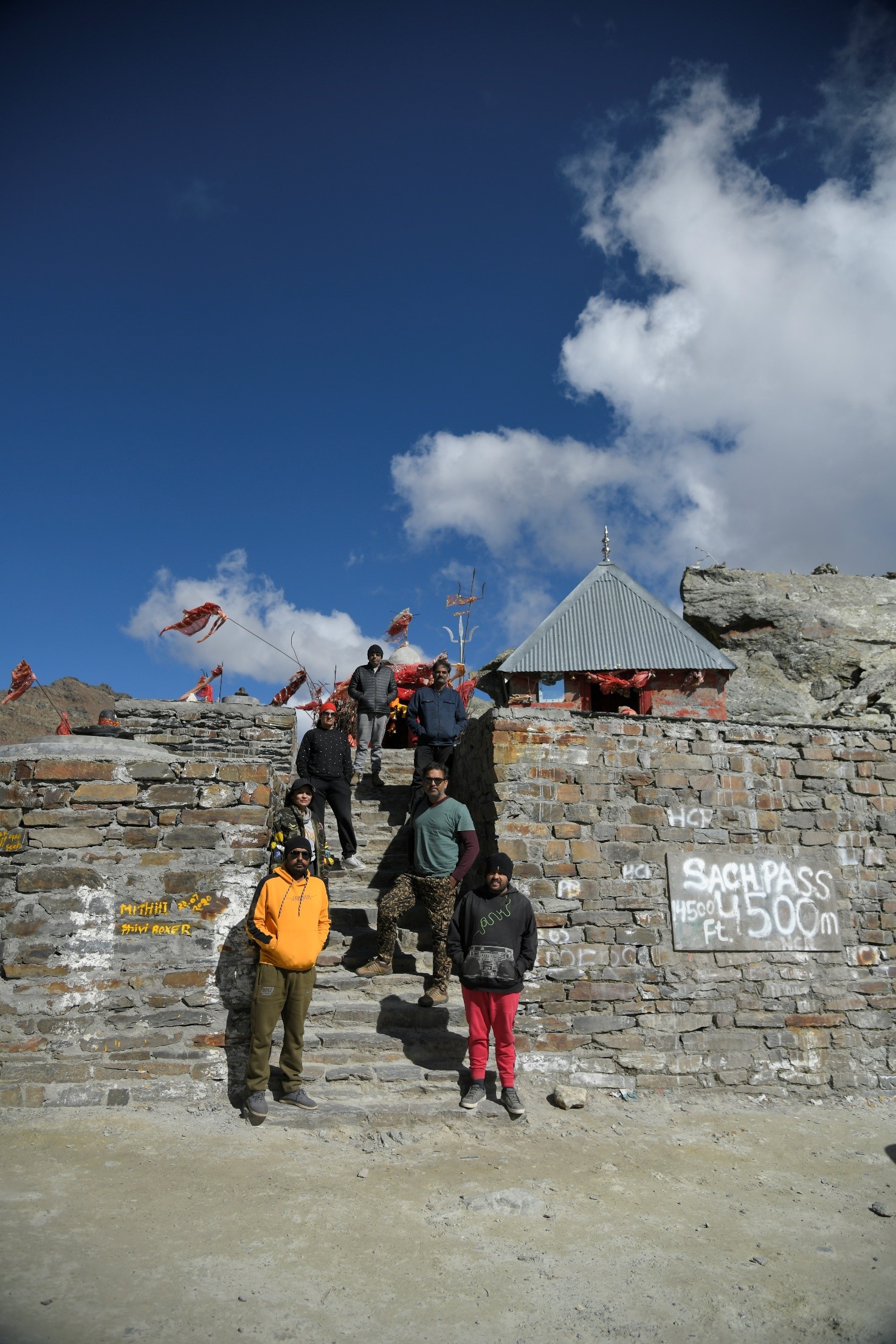 You will encounter Bagotu water crossing enroute which gets flooded sometimes. Reach Killar by the evening and check in to the hotel.
Bonfire and Dinner under the stars
Accommodation: TBA
Meals Includes: Breakfast +Tea +Lunch + Evening Tea+ Evening Snacks + Dinner
Day-4- Killar- Udiapur- Jispa
Get up Early morning and enjoy hot cup of tea and breakfast with your fellow travellers, Start our journey towards Udaipur.
Today's anxiety is to cross Madgran Water crossing; which is thrilling and challenging. Today you will be passing through various beautiful villages of Pangi Valley, witnessing beautiful waterfalls and water crossings.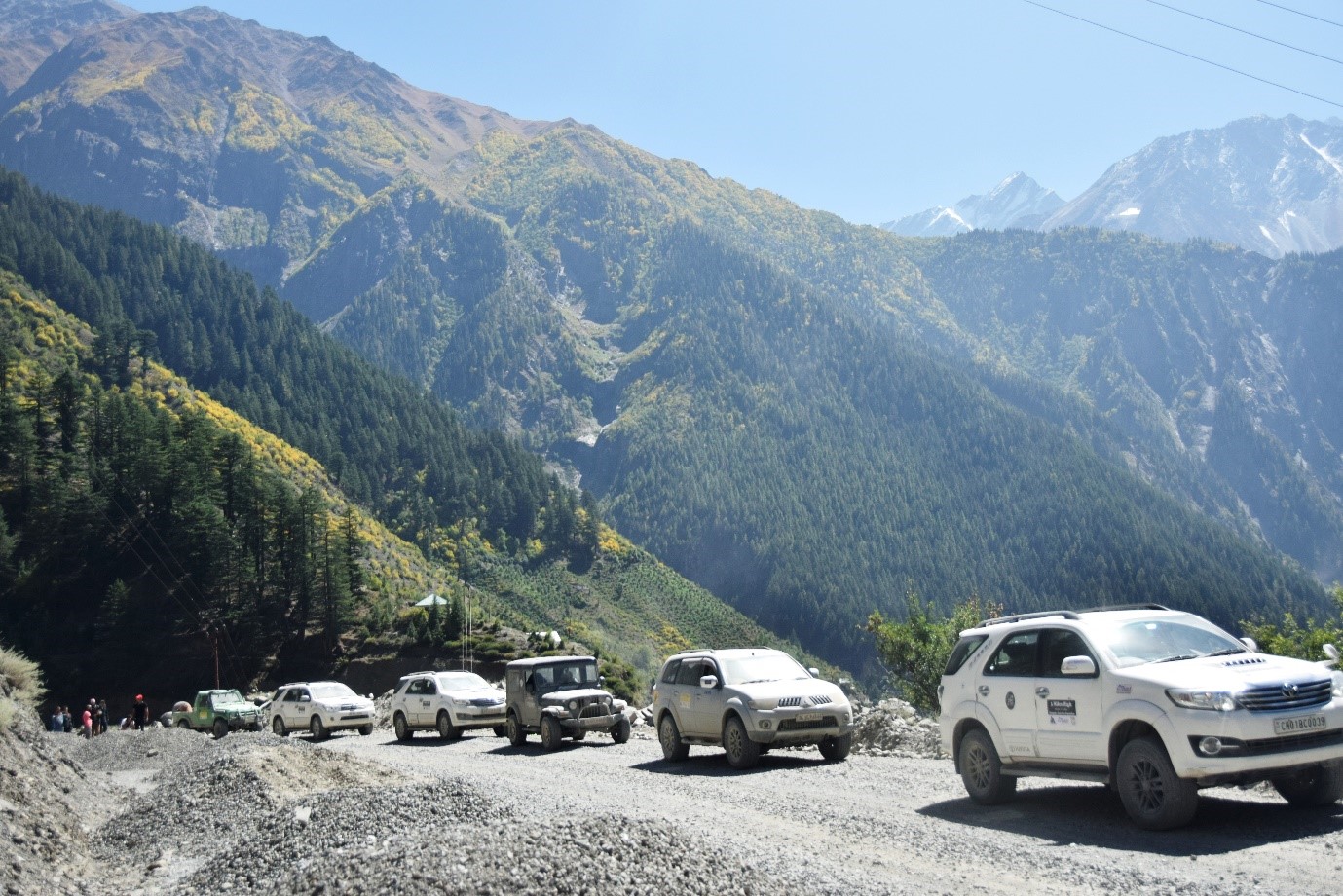 Reach Udaipur by the lunch time and visit The Sri Trilokinath ji Temple which is about 9 Kms from the village of Udaipur. The glittering white-painted temple is must visit.
After taking the blessings at temple we will start driving towards Jispa.  Enjoy your evening at beautiful Jispa which has its own charm.
Accommodation: Gemmor Khar Jispa
Meals Includes: Breakfast +Tea +Lunch + Evening Tea+ Evening Snacks + Dinner
Day‐5- Jispa – Shinkula Pass – Kurgiakh – Jispa
Early start with lots of excitement. Today's route will take you over 3300m above sea level to over 5000m above sea level at Shinkula Pass. From Shinkula, the descend starts and takes you to 3500m above sea level in less than 10 km, so make sure you check your brakes before you start descending.
Once at Shinkula Pass in Zanskar, you head to Kargyak Village. The road from Shinkula Pass to Kargyak Village is 21 km long and the road is quite challenging. Although most of the road goes through vast and open spaces but it often submerges into rivers. These are not just streams or normal water crossings but full-fledged rivers that require a proper guidance and skills to cross. Our team will make sure to ease out this difficult terrain for you.
You'll soon be rewarded for your hard work by stunning views of Gonbo Ranhjon, a massive conical mountain that stands tall and mighty in the middle of the cold desert. The mountain is one of the most sacred ones among the people of Zanskar.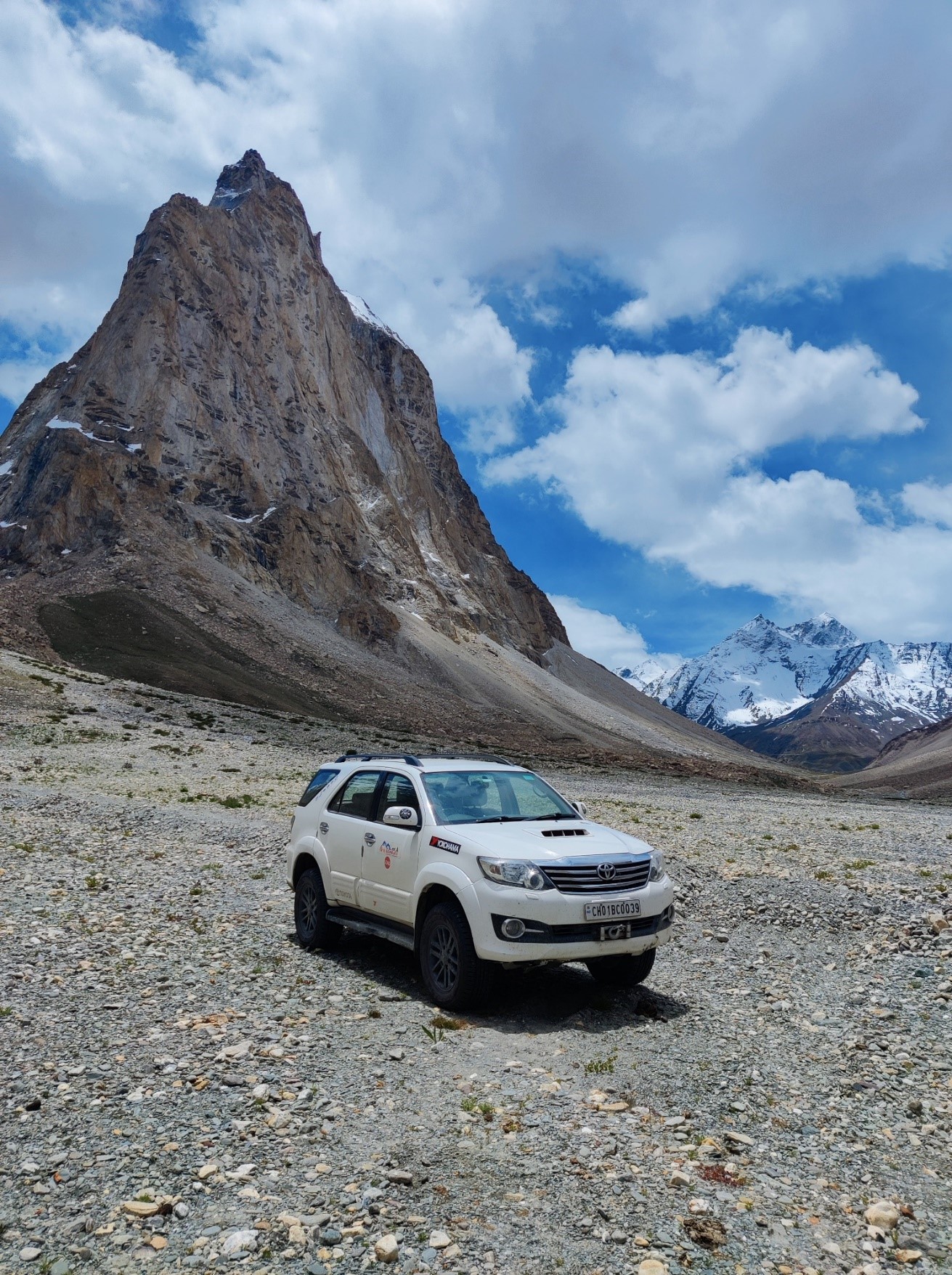 After Having Lunch, we will start our journey back to Jispa. Evening at leisure.
Stay – Hotel Gemoor Khar (***)
Meals Included- Breakfast + Tea + Lunch + Evening Tea + Dinner
Get up early and take a nice walk to the beautiful Gemur monastery near the hotel. you will see the most beautiful view from the top.
The monastery is a great sight in and of itself, with groomed gardens, finely carved Stupas, shrine chambers displaying relics and Tibetan art, and sculptures of the goddesses 'Marichi' and 'Vajravarahi.' Come back, enjoy your breakfast and say Goodbye to the beautiful landscapes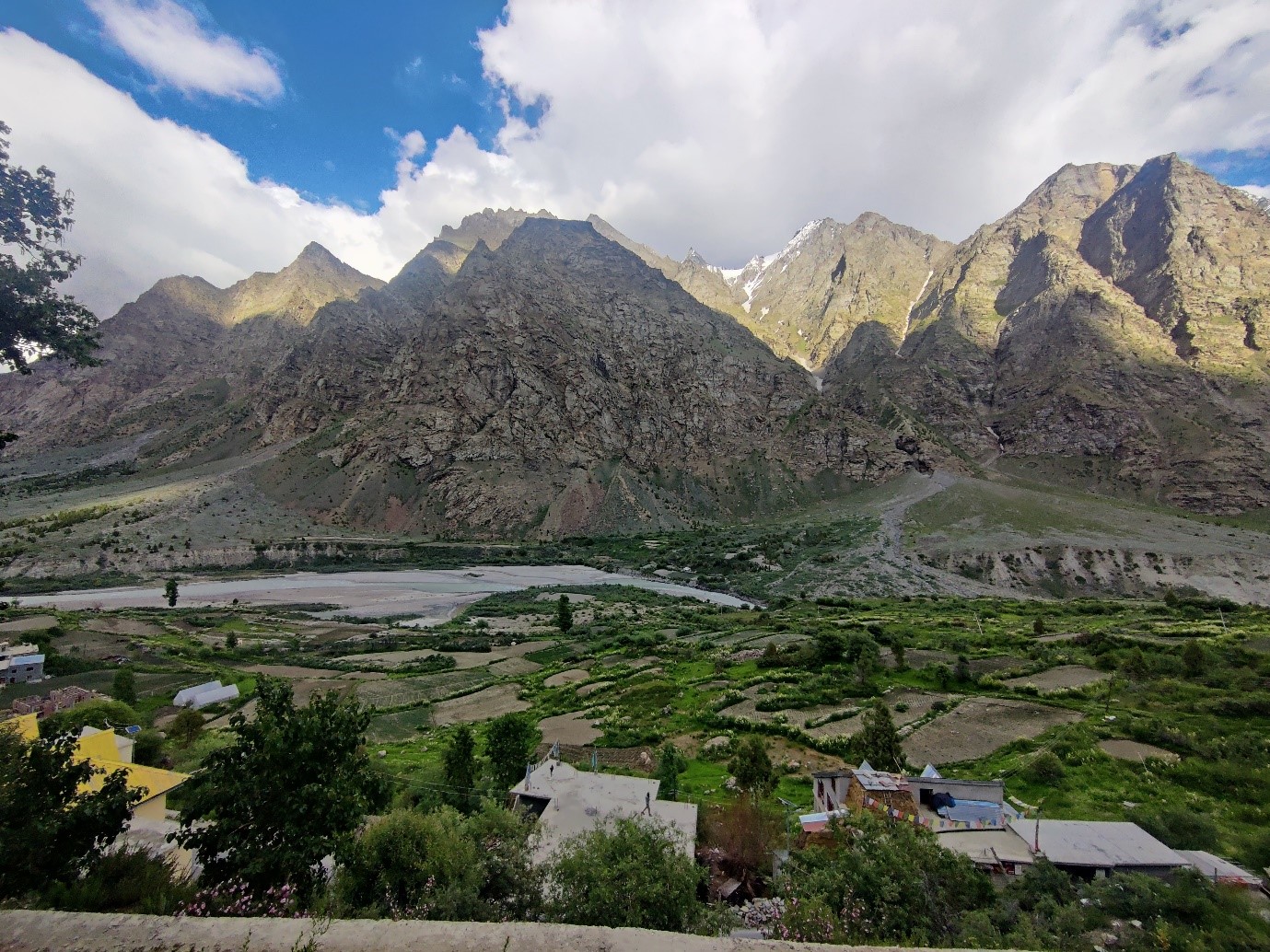 Enjoy the beautiful drive to Manali along with beautiful Chandra Bhaga (Chenab) river. Cross Atal tunnel and reach back to the civilisation.
Gala Dinner and trip concludes here!!!
You can choose to stay back in Manali for Couple of more days or can plan to visit Thirthan valley, Kasol or famous Manikaran sahib.
Let us know we will help you extend your adventure further!!!
Accommodation: Hotel Allure Grand or Similar   
Meals Included- Breakfast + Tea + Lunch + Evening Tea + Dinner
Say bye to your fellow travellers and stat your journey back home.
Meals Included- Breakfast
Day‐8‐ Back Home (01 July)
Leave back home as per your convenience or you can choose to explore Srinagar . let us know we will help you with itinerary and bookings.
Meals Included- Breakfast
Cost for "Go 2 Passes High 2023"
The charges for Indian Nationals INR 45000/- Per Person.
Children Below 2 years are not recommended
Children till 5 years are complimentary
Children between 6-12 years- INR 22000/-
Children above 12 years is treated as adult
The single room supplement payable in case a participant does not want accommodation on a twin sharing basis will be 40% extra.
The Charges for hiring Drivers is extra
Bookings can be done by depositing 20,000/- booking amount!!!
The charges can be paid by Cheque / Demand Draft/ bank transfer in favour of
"Boundless Journeys"
Current A/c no 2479201000942
Canara Bank, Sector 19, Chandigarh
IFSC Code CNRB0002479
"Go Boundless"
Current A/c no 50200065852270
HDFC Bank, Sector 8, Chandigarh
IFSC Code HDFC0000107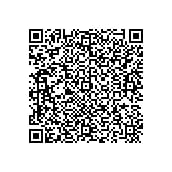 Scan QR Code and Pay
Gpay Scan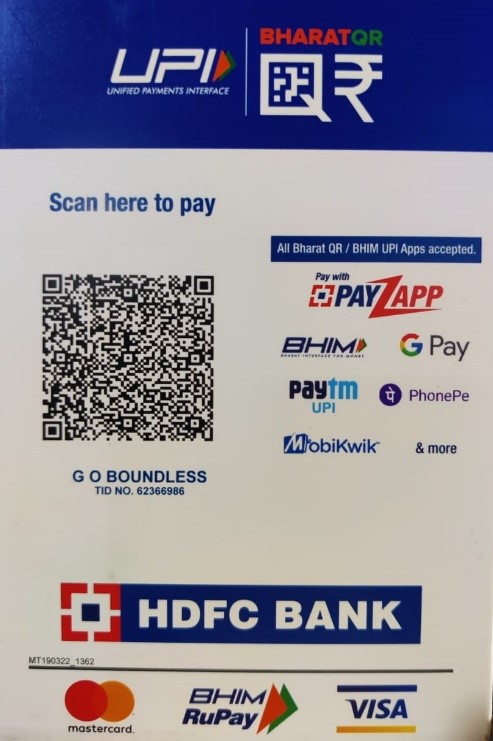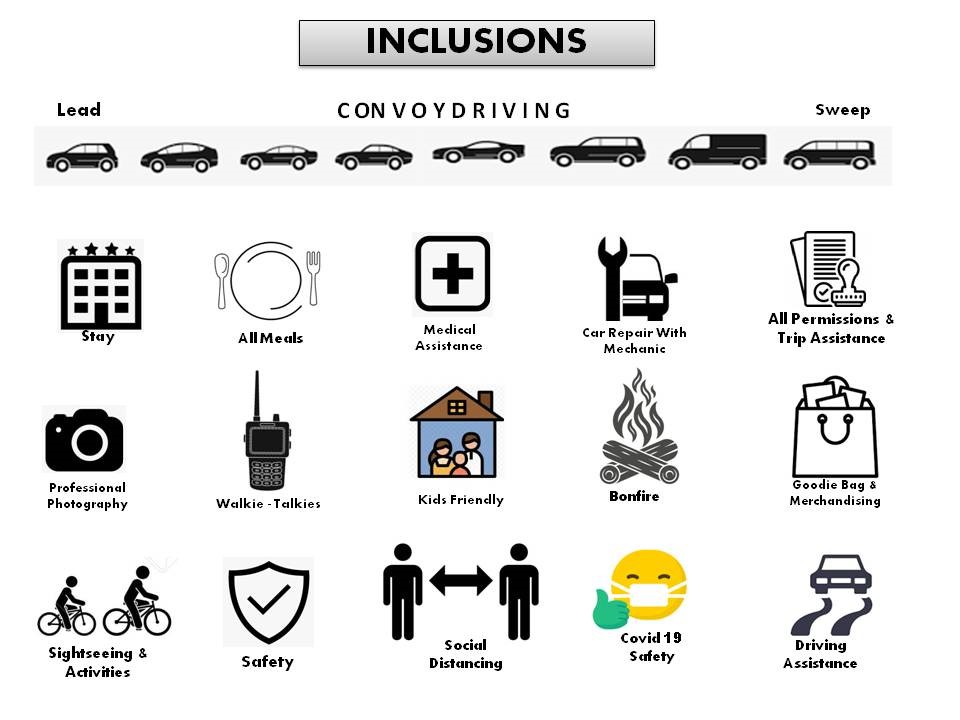 Inclusions-
Accommodation on Double occupancy Basis
All Meals (As mentioned in the itinerary)
Pilot Vehicle
24X7 Backup with mechanic
24X7 Medical Supplies with Oxygen Cylinders
Off-roading Experience
Service Backup
All Permissions
Merchandising of Go Boundless
Radio Communication Sets
Guidance and support
Helicopter Services in case of Emergency on Extra cost
Does Not Include: -
Vehicle/Fuel/ Road tax/tolls etc.
Does not include fuel costs for driving to & fro locations and costs that are incurred on the way.
Tips and gratuities.
Personal and Vehicle Insurance
Any kind of drinks (Alcoholic, Mineral)
Any personal expenses, Extra snacks, Laundry etc.
Any spare parts such as engine oil break oil and others.
Cost of any form rescue, evacuation, hospitalization, etc.
Entrance charges to monasteries, and camera charges
Cigarettes, laundry etc.
Whatever is not mentioned in Inclusions
5% IGST
Cancellation Policy: -
80% payment confirmation against booking. Rest 20% 30 days before the travel.
Cancellation before 40 Days, full Refund
Cancellation before 30 days, 70% Refund
Cancellation after 30 days, No Refund
Cancellation of event by the organizers 100% refund.
Cancellation arises out of unseen natural circumstances no refund.
In case of rough weather, we have the full discretion, whether to go ahead with the trip/expedition or not. In case of cancellation due to rough weather, we will provide you with an alternate trip. The dates and the cost of trip may vary. In such cases following will apply: -
Cost of alternate trip > Cost of booked trip: Customer has to pay extra difference in cost
Cost of alternate trip < Cost of booked trip: Customer will be paid back the extra difference in cost.
In case we are unable to find a replacement for the trip, customer will get the full refund
In case of Road Block to any destination, no refund and you have to pay extra for making alternate arrangements.
For Bookings Contact-
Vaneeta Kang
(Founder & Lead Adventurer)
Go Boundless Contact - 09878025444
boundlessgo@gmail.com /www.goboundless.co
#travelwithvk #goboundless