Go Boundless - Great Lakes Kashmir Trek
16th-24th July 2022
(07 nights 08days )
The Kashmir Great Lakes Trek is in no need of an introductory treatise. It presents the poem in itself. You can draw a preface of it by just hearing its name. Kashmir is a wonderful place and if you are on a Himalayan trek you are bound to taste the natural beauty and adventure. The trek to the Kashmir Great Lakes Trek offers a lifetime experience of vintage memories that are so wonderfully tiring. The thundering silence of the Kashmir lakes and its virgin beauty is spell bound. Apart from the lakes, even the barren milky snow clad mountains stand out in might and proud.
Sheer heaven on earth is the phrase that will come to your mind while undertaking the Kashmir Great Lakes trek, for the state is a land of divine beauty. When the starting point of your excursion is a bewitching place like Sonamarg, you know that you are in for a world of excitement. As you walk along the trails, you get to witness almost the entire range of ecological zones in the Himalayas. When you start the hike, you are amidst thick temperate forests of pine. You then gain altitude and enter jungles of morinda spruces, pindrow first and deodar trees, which disappear as you reach altitudes of over 11000 feet. Here you are greeted by expansive meadows of lush grass and shrubs, and they are easy to trek through due to their comparatively flatter terrain. From these grasslands, you will be able to see crystal-clear lakes and snow-covered mountain peaks in the distance.
Destination

Departure

Srinagar - Sonamarg - Nichnai - Kishansar Valley - Gadsar - Satsar - Gangbal - Naranag

Departure Time

16th July 2022

Return Time

24th July 2022

Included

Breakfast

Dinner

Evening Tea

Lunch

Not Included

4 Star & 5 Star

Alcoholic Beverages

Home Stay
Tour Plan
16th July– Reach Srinagar
Reach Srinagar and Enjoy the valley with serene climate, snow capped mountains and apple trees around.  Check in to the Hotel and enjoy the sightseeing and Shikara ride at Nagin Lake.

16th July - Srinagar to Sonamarg (Altitude 7800 ft)
Drive from Srinagar to Sonamarg is around 3 hours and 90 kms. Sonmarg is the best place for acclimatization before the walk. Enjoy the valley and relax.
18th July - Sonamarg to Nichnai (Altitude: 7,800 ft to 11,500 ft)
Time Taken: 11 kms trek, approx 8 hours
After the breakfast we trek to Nichnai via Shekdur. The trail takes you through meadows, dense forests with Maple, Pine and Bhoj trees. After approx half an hour, we get an army check post where we have to submit our ID proofs. While you are at it, you can enjoy an awesome view of the Bear Valley or the Thajiwas Glacier. The trek from Shitkadi to Shekdur is goes through thick forests of pine trees and will take approx 2 and half hours. We follow the Nichnai Stream as we trek from Shekdur to Nichnai. The Nichnai Valley is known as the valley of wildflowers.  We camp in the flowery meadows of Nichnai.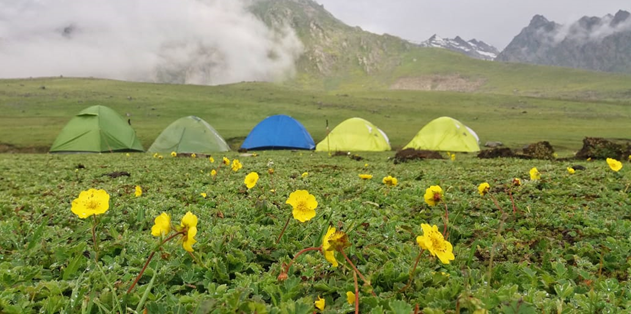 19th July - Nichnai to Kishansar Valley (Altitude: 11,500 ft to 12,000 ft via 13100 ft)
Time Taken: 12 kms trek, approx 7 hours Trek from Nichnai to Nichnai Pass is of approx 1 and half hours ascent. At the top of Nichnai Pass you can get B.S.N.L network, which is the last point under mobile coverage area. From Nichnai pass to Vishansar there is a descent. At Vishansar campsite, lunch will be offered. We can visit the Vishansar Lake which is just 15 minutes walk from the campsite. This is the first lake of the trek and one of the most beautiful ones. We ascend into the Kishansar/Vishansar Valley—a beautiful valley with two lakes resting soothingly before two lofty mountain peaks. The lakes abound with colourful trout fish. Both of these lakes have a religious significance and they drain into Kishanganga River that meanders through Gurez valley.
20th July - Kishansar/Vishansar Valley to Gadsar (Altitude: 12,000ft) to (12,000ft) via (13,750ft)
Time Taken: 14 kms trek, approx 10 hours We start the trek earlier than usual. The trail passes from Vishansar to Gadsar, via Gadsar pass the highest point of the trek. From Vishansar, the trail takes a steep ascent till Gadsar Pass. We can see the Kishansar Lake on the way. From the Gadsar pass till the camp site, we descend gradually. We can spot the Gadsar lake en route. You might also spot the Glacier of Gadsar Lake. After the Gadsar lake, we will reach the campsite in 2 hours. Just a few minutes before our campsite, we will have another army checkpoint and we will have to share our ID proofs with them. Pack lunch on the way. On the fifth day of the trek, the trail becomes mild and relaxing with a repetition of mild ascents and descents through large meadows that stretch along a succession of the fascinating mountain range. The Satsar valley holds seven alpine lakes; we camp for the night beside one of the canals that snake around this valley. We enter into the Gadsar Valley over Gadsar pass. The pass gives a wide view of both Kishansar/Vishansar valley on one side and the Gadsar valley on the other. Enchant yourself with long wavy meadows dotted with multicoloured flowers. The Gadsar Valley is famous for its lake and sinking watersand. We pitch the tents beside a shimmering canal that comes out of the Gadsar Lake. Legends say the water and fish from the Gadsar Lake have healing powers.
21st July - Gadsar to Satsar- (Altitude: 12,000 ft to 12,000 ft)
Time Taken: 9 kms trek, approx 6 hours trek Mid July to mid August, the trail is laden in vibrant flowers. We need to share our IDs at another army check post en route. Moving on, we see two small lakes which are often mistaken as Satsar Lakes. We will visit the Satsar twin lakes, in the afternoon, which are approx 1.3 h. Satsar twin lakes are also known as mengen top. Those twin lakes are between the middle of the mountain.

22nd July - Satsar to Gangbal via Zaj Pass (Altitude: 12,000 ft to 11,500 ft 13000 ft)
Time Taken: 11 kms trek, approx 6 hours We walk on rocky paths for approx an hour and ascend till Jazz Pass. At the pass, you can enjoy views of the 4 lakes, Mt. Harmukh and its glacier. From the pass we descend till the Gangbal lake and camp at Nandkol lake. We visit the Gangbal Lake, which is one of the largest lakes in the trek. The day takes us over the Zajibal pass- The pass cuts the Satsar Valley and Gangbal valley. From Zajbal one can see the glaciers above on twin lakes (Nandansar / Nundkol and Gangabal and few other alpine lakes like Kolsar etc. We cover a two hours descend that leads us to the Nundkol Lake lying judiciously at the foot of Harmukh. The Harmukh, the lake and the reflection of the Harmukh in the lake make it majestic. Gangabal is a largest alpine lake of Kashmir and the lake and Mount Harmukh (5142m) is very sacred in Shivism.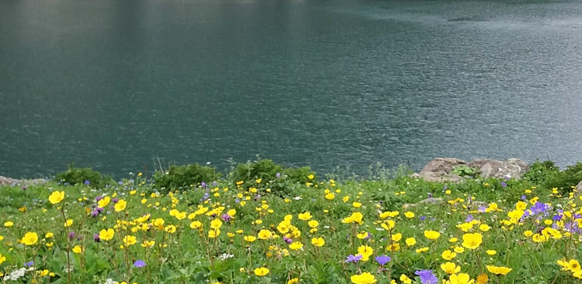 23rd July - Gangbal to Naranag via Trunkhol Meadow (Altitude: 11,500 ft to 7,450 ft)
Time Taken: 15 kms trek, approx 7 hours, 70 Kms Drive The trail is a descent till the last point of the trek – Naranag, so take care of your knees and ankles. The trail will pass through pine tree forests. The Trunkhol Meadow is encircled with snow-capped green mountains, and the camping gives a breathtaking view of Harmukh Mountain. On the last day of the trek, we descend into the Naranag through the meadow and then through a knee crushing terrain of Buthshree to reach Naranag. The same day we will drive to Srinagar. After the 70 kms drive, you will reach Srinagar by 6:30 pm approx. Don't forget your ID proof in original and 2 photo copies.
Gallery
Experience the authentic Rajasthan with Go Boundless
TOTAL COST OF THE TRIP-INR 45000/-
KIDS ABOVE 12 YEARS OF AGE ARE ALLOWED!!!
All Foreign Nationals have to pay 1000/- Extra for Permits
Group Size: 10-15 Pax
COST INCLUDES
:
All transfers / excursions from Srinagar to Srinagar
All stays inclusive of breakfast, packed lunch and dinner on all days at the camp
Luxury Hotel on double sharing basis at Sonamarg and Srinagar
Offloading of backpacks on ponies is included in the package (Upto 10 kgs)
Medical Backup
Trip Guidance
COST EXCLUDES
:
Flights / Transpiration to the hotel
Expenses of personal nature such as phone calls, outside eatables, drinks (Mineral
Water, Aerated /Alcohol Drinks), laundry, tips, etc.
Cost of any form of insurance, rescue, evacuation, hospitalization, etc.
Any change in the itinerary, stay on account of flight/ train cancellation due to bad
Weather, ill health and road block etc. Any Factors which are beyond our control.
Any other expense not mentioned in the 'cost includes' column.
Once confirmed/issued non refundable.
5% GST
IMPORTANT NOTE:
We have kept buffer of one day in case of any delay on the trek due to any un foreseen circumstances or rains etc. Please book your Tickets for day 9 evening.
Day 01 and day 09 is a free day to explore Srinagar. You can do the sightseeing at your own cost.
In Case you opt to Withdraw from the trek, no refund applicable.
ESSENTIALS
Wear comfortable full cotton / thermal casual top and track / cargo pants.
Wear good waterproof trekking shoes.
BACKPACK LIST
Sun hat or cap
Sun glasses.   (UV protected)
Sunscreen lotion (SPF 30+)
Cold Cream.
Head lamp or Torch (With Extra Batteries)
Chocolates and dry fruits as pocket snacks.
Water bottle with water (minimum 3 ltr per person, per day)
Toilet Paper & kit.
Personal Photo Identity (Compulsory)
Personal Medication (if any)
Personal Clothing.
Heavy Woolen Clothing & socks.
Wind Stopper /  Feather Jacket
Rain Sheet  (Poncho)
Floaters ( Footwear )
Trek Pole
Warm Gloves and Cap
Power Bank
Light Weight Feather Jacket
Backpack Rain Cover
DISCLOSURE ON MEDICAL CONDITIONS:
It is mandatory that you visit your personal physician before enrolling for the trip if you suffer from any illness of any kind. Please disclose any medical condition / history to the organizers of the trip so that the best possible arrangements can be carried out post approval. As organizers of the trip, we will be responsible for providing basic first aid throughout the trip. In case of unexpected mishaps or accidents, we will arrange for the injured patron to be taken to the nearest medical hospital wherever possible. The medical expenses will have to be borne by the patrons themselves. It is compulsory to fill the medical and Indemnity Form with Go Boundless ( Format will be provided)
BASIC POINTS TO KEEP IN MIND
Nature is fun to explore but not a toy to exploit. Respect its harmony and maintain the balance needed to retain its beauty and treasures. Please abide the specific guidelines we share with you on the trip. This trip is not a regular excursion / exercise with family and friends. It unlocks the wonderful world of nature and brings its magic alive. Do choose the trip to be nature's special guest. You will be responsible for taking care of your personal belongings.
We will try out best to follow the itinerary of the trip shared with you but bear in mind those factors out of our control that may change the schedule. You will be required to make the full payment at the time you confirm your enrolment for the trip. In case you opt for cancellation, no requests for transfer or postponement will be considered. Please note that Go Boundless reserves the right of refusal and the right to cancel any booking (for example when the basic feasible quota of people required has not been met). In such an event, as a participant you will be entitled to a refund.