Go Spiti- Self Driven Expedition (June)
Spiti - Pristine Lakes, World's Highest Villages and Beautiful Deserts
Go Spiti- Self Driven Expedition
18th June to 28th June 2022
(11 Nights/12 Days )
With pristine lakes and some of the worlds' highest inhabited villages, Spiti leaves you with picture-postcard memories of barren desert and precariously perched monasteries set against backdrop of clear blue skies. Sparse population and awesome driving opportunities offer a feeling of unexplored remoteness in an area yet untouched by tourism. At incredible altitudes with stunning landscape, often compared to Ladakh before tourists took over, Spiti makes a fantastic road-trip destination. High altitude and rugged mountains make for a bucket list drive as you reach an altitude of 15,000 Feet.
An ideal combination of traversing river beds, waterfalls, monasteries, warm locals, peace, star gazing ,experiencing the milky-way and driving on single track dirt-trails.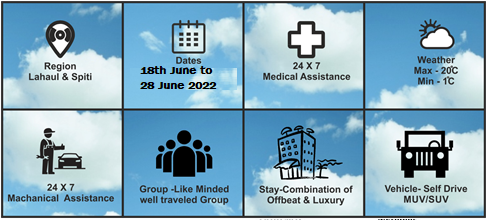 Go Boundless will take care of all details including:
Why Travel with Go Boundless-
Planning the route and itinerary to include the 'must see' sights
Coordination of the convoy
Local guidance and support from experts
Safety Measurements
Lead & Sweep vehicle
First Aid arrangements
Extra drivers on demand
Basic service backup
Stay at all the offbeat and best available places.
Hill Driving tips
Merchandising of Go Boundless
Munching Goody Bag
Family and Kids Friendly
The itinerary for "Go Spiti" has been designed for gradual acclimatization and to include the best lodging and boarding options available on this route.
| | | | | |
| --- | --- | --- | --- | --- |
| DAY | DATE | DESTINATION | DISTANCE | TRAVEL TIME |
| DAY-01 | 18TH JUNE | CHANDIGARH – NARKANDA | 193 KMS | 6-7 HOURS |
| DAY-02 | 19TH JUNE | NARKANDA- BAGA SARHAN | 94 KMS | 3-4 HOURS |
| DAY-03 | 20TH JUNE | BAGA SARHAN | LOCAL | REST DAY |
| DAY-04 | 21ST JUNE | BAGA SARHAN- SANGLA | 135 KMS | 5-6 HOURS |
| DAY-05 | 22ND JUNE | SANGLA- CHITKUL-SANGLA | 70 KMS | 2-3 HOURS |
| DAY-06 | 23RD JUNE | SANGLA- NAKO | 126 KMS | 5-6 HOURS |
| DAY-07 | 24TH JUNE | NAKO-TABO-DHANKAR – KAZA | 112 KMS | 3-4 HOURS |
| DAY-08 | 25TH JUNE | KAZA – HIKKIM- LOSAR – KAZA | LOCAL | LOCAL DRIVING |
| DAY-09 | 26TH JUNE | KAZA – KEEKIBBER – KAZA | LOCAL | LOCAL DRIVING |
| DAY-10 | 27TH JUNE | KAZA- CHANDERTAAL – MANALI | 182 KMS | 6-7 HOURS |
| DAY-11 | 28TH JUNE | MANALI | LOCAL | REST DAY |
Destination

Departure

CHANDIGARH - NARKANDA - BAGA SARHAN - SANGLA - CHITKUL-SANGLA -NAKO-TABO-DHANKAR - KAZA- CHANDERTAAL - MANALI

Departure Time

18th June 2022

Return Time

28th June 2022

Included

4 Star & 5 Star

Breakfast

Dinner

Evening Tea

Lunch

Not Included

Alcoholic Beverages

Home Stay
Tour Plan
Chandigarh – Narkanda (18th June)
Leave around 8.00 am and Drive to Narkanda which is approximately 190 Kms. The village of Narkanda has some spectacular attractions making it a must visit location. Visit Hatu Peak temple in the evening or stay back and enjoy the valley view followed by evening bonfire and Dinner.
Stay-
Wilderness or Similar (****)
Meals Included – Breakfast + Tea + Lunch + Evening Tea + Dinner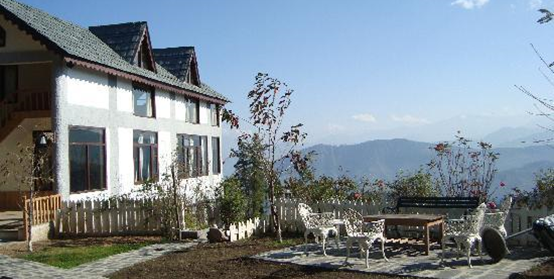 Narkanda- Baga Sarahan (Kullu Distt.) (19th June)
As always we try to explore and add offbeat destinations to our itinerary. After exploring the cold desert it's time to spend few relaxing days in the lap of Himalayas. Drive to Baga Sarahan – is a historic meadow located in the Sarahan Village of Kullu district of Himachal Pradesh. A wonderful village in a lush green valley in the middle of snow-covered hills. The village has a beautiful temple in the middle. Enjoy 45 Kms picturesque drive from Rampur will take you to a beautiful little hamlet called Baga Sarahan. Enjoy best of the Hospitality and Himachali Cuisine with Bonfire.
Stay-
The Vinshar Bagha Sarahan(***)
Meals Included – Breakfast + Tea + Lunch + Evening Tea + Dinner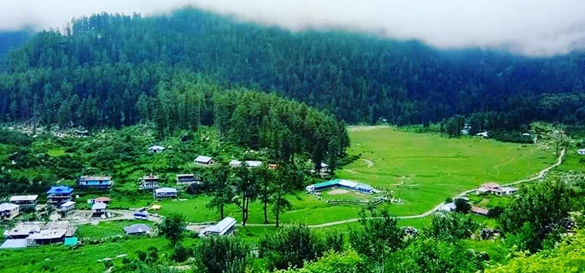 Get up early in the morning and visit a waterfall, which is a short hike away from the campsite and offers a divine view of the valley. You can spend couple of hours listening and enjoying the sounds and sights of the nature. Today just soak in the Nature of Baga Sarahan which is surrounded with unconfined, draping meadows bordered with deep forests on one end while traditional Kathkuhni houses and apple orchards on the other. A beautiful day is planned for you with multiple activities.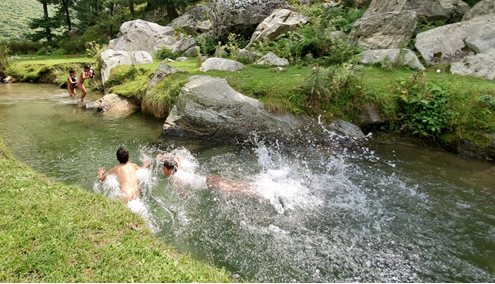 Baga Sarahan- Sangla (21st June)
Situated in a deep valley next to the Baspa River, Sangla offers the tourists a beautiful view of green mountains and apple orchards. It's one of the most scenic valleys in Himachal , and on accommodation Kinner camps is one of the best options with nature at its best  and camping next to the river can blend up to the experience. Reach by early evening and enjoy Chai with Pakoras.
Stay- Kinner Camps, Sangla
(****)
Meals Included – Breakfast + Tea + Lunch + Evening Tea + Dinner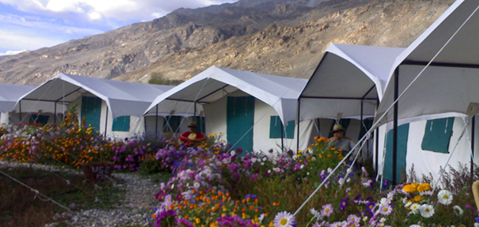 Sangla- Chitkul-Sangla (22nd June)
Spend your morning in the lap of nature and enjoy the sound of birds chirping all around. Have breakfast and we will leave for Chitkul. Chitkul is the last inhabited village near the Indo-China border. The Indian road ends here. During winters, the place mostly remains covered with the snow and the inhabitants move to lower regions of Himachal. One the way back we will be treated with Picnic Lunch at the beautiful water stream. Relax and enjoy your day.
Stay- Kinner Camps, Sangla
(****)
Meals Included – Breakfast + Tea + Lunch + Evening Tea + Dinner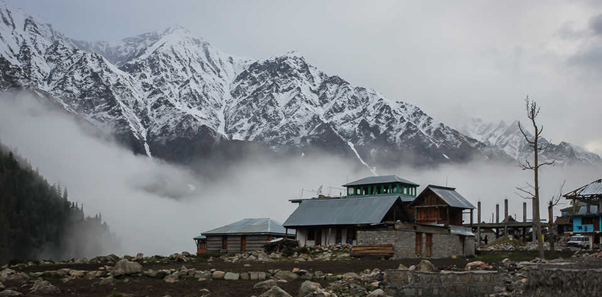 Leave Sangla and watch the vistas enroute over Hindustan Tibet border. Enjoy the drive besides Spiti and Satluj Rivers. This is the one of the most thrilling road. Reach Nako by the evening and enjoy this quite Lake. Overnight stay at Kinner Camp Nako.
NAKO-
Ne-Goh called in local direct meaning door way to pilgrimage , its beginning of trance Himalaya land scrape and is beginning of cold desert  .it has a holy lake right in between village which has great significance to local Buddhist people living around.
Stay- Kinner Camps, Nako
(****)
Meals Included – Breakfast + Tea + Lunch + Evening Tea + Dinner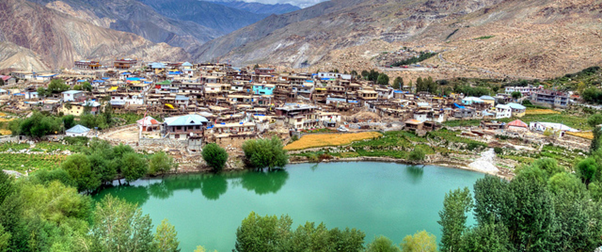 Nako – Tabo – Dhankar - Kaza (24th June)
After breakfast we will start our journey towards Kaza. On the way we will head towards
Tabo and Dhankar
Tabo
is a 1000 years old monastery and contains many priceless Thanka paintings and artifacts including Pillar of a Thousand Buddhas. This monastery is listed as a World Heritage Site by UNESCO. The entry to monastery which is spread over 6300 square meters is made of earthen walls and covered with beautiful frescoes. These paintings depict various lives of Buddha and stories from Jataka tales painted in typical Tibetan style. You can also visit nearby caves which are used by monks to meditate in solitude and introspection.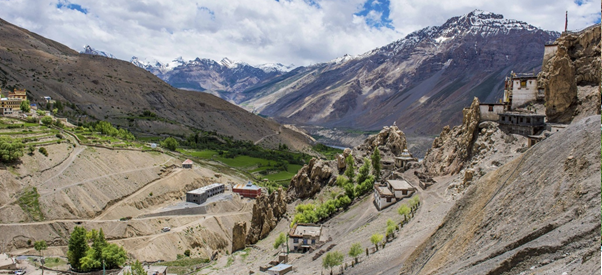 DANKAR
- Damg-khar , where  khar means palace and  used to be winter capital of Spiti ruled by  prince  known as nonos in local dialect , till very recent It has a monastery which is recognized as   100 most endangered monuments under UNESCO and falls under Gelukpa sect of Tibetan Buddhism, the whole village is situated on a cliff overlooking the confluence of pin and Spiti river. Dhankar Lake After having Lunch, head towards Kaza. Enjoy the drive and reach Kaza by late evening
Stay- Sakya Adobe or Similar
(***)
Meals Included – Breakfast + Tea + Lunch + Evening Tea + Dinner
Kaza – Kee – Kibber - Kaza (25th June)
Get Up late and enjoy your breakfast by River side. After breakfast and off- roading we will come back to the hotel. Freshen up and visit
Kee monastery
and Kibber Village. Kee monastery is the largest monastery in the Spiti valley. Established in the 11th century, it has ancient Buddhist scrolls and paintings. It also houses the largest no. of Buddhist Monks and nuns. After Visiting Kee Monastery and head towards
Kibber Village.
Kibber is the highest village in the world which is connected by motor-able road and also has its own polling station during election. We will go to the Chichem Bridge and come back from the different route. Visit Local market in the evening !!!
Stay- Sakya Adobe or Similar
(***)
Meals Included – Breakfast + Tea + Lunch + Evening Tea + Dinner

Kaza – Langza- Hikkim -Kaza (26th June)
After Breakfast we will go to Langza, Hikkim and Komic.
LANGZA
Village is a beautiful destination, situated at an altitude of 4400 meters and is divided into two sections, namely Langza Yongma (lower) and Langza Gongma (upper). This picturesque village is blessed with ancient monasteries and buildings of the prehistoric era. It is surrounded by green pastures, snow-clad mountains and barren landscapes that awe-struck every person who visit this stunning location, which is certainly one of the best places in the whole Spiti Valley. The magic of nature at Langza village leaves everyone speechless. After Langza we will head towards Hikkim Village. This place houses the highest post office in the world. Carry some post cards to post to your loved ones from Hikkim village. Enjoy the packed lunch that you can enjoy in the grassy meadows of this high altitude terrain.
Stay- Sakya Adobe or Similar
(***)
Meals Included – Breakfast + Tea + Lunch + Evening Tea + Dinner

Kaza- Chandertaal- Manali (27th October)
Leave early morning as we have a very exciting journey today towards Manali. On the way back after climbing down from Kunzun la, we will take an enroute towards chandertaal – The moon lake. Spend some time and explore the lake and drive towards Manali. Today's drive is the most exciting drive and 70% offroad. You will see snowalls/ glaciers on the way with multiple waterfalls. Reach the destination by the evening and relax.
Stay- Anantmaya Resort ****)
Meals Included – Breakfast + Tea + Lunch + Evening Tea + Dinner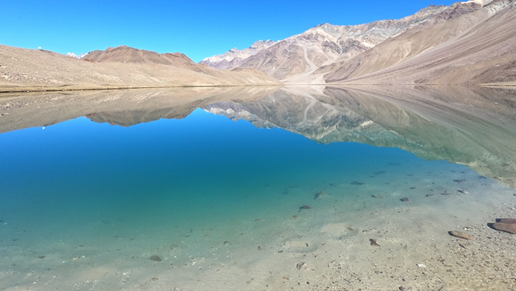 Rest Day and time to explore beautiful Manali. Plan a sightseeing or you can also opt the adventurous activities like para gliding/ water rafting etc. Stay- Anantmaya Resort (****) Meals Included – Breakfast + Dinner
Depart after Breakfast. You can choose to stay back for more days if you want. Meals Included – Breakfast
Cost Per Adult - 52000 INR + 5% GST (On Double Occupancy)
Cost Per Adult – 75000 INR + 5% GST (On Single Occupancy)
Child 5-12 = 35000 INR (With Extra Bed)
Child above 12 is treated as Adult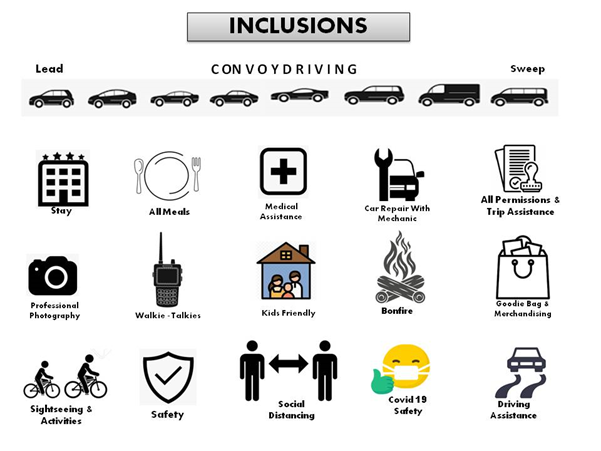 DOES NOT INCLUDE:
Vehicle & Fuel
Tips and gratuities.
Phone Calls.
Any kind of drinks (Alcoholic, Mineral, Aerated).
Cancellation Policy:
100% Refund by 15th May 2022
80% Refund by 30th may 2022
No Refund after 1st June 2022
Cancellation of event by the organizers 100% refund.
Cancellation by participant will have no refund
Cancellation arises out of unseen natural circumstances no refund.
In case of emergency at home/illness etc. 50% will be deducted and rest of the amount may be adjusted in the next trip.
In case of rough weather, we have the full discretion, whether to go ahead with the trip/expedition or not.
In case of cancellation due to rough weather no refund
In case of Road Block to any destination, no refund and you have to pay extra for making alternate arrangements.