Go Ladakh – Drive Sub-Zero
Explore Frozen Rivers 0f Ladakh
Go Ladakh – Drive Sub-Zero
23rd - 29th January 2023
(6 nights/ 7 days )
Ladakh in winter is all about the daunting trails, snow-coated mountain peaks, rustic maple leaves adorning the streets, and frozen lakes creating an endless streak of dreamlike frames.
Nothing gives a high as intense as high mountain passes – this is the exact meaning of Ladakh in Tibetan! Located at an average altitude of 3000 meters above sea level, Ladakh has remained the first love of almost all backpackers, nature lovers, and adventure enthusiasts from across the globe.
Venturing Ladakh in the winter season comes with its own lethal combination of fun and fantasy.
Here's a peep into the incredible journey gets!
Ladakh in winter is synonymous with awesomeness and wonder. Geographically, Ladakh is made up of the four fantastic beauties in The Great Himalayan Range, Zanskar Range, Indus River, and Siachen glacier. All of them are spectacular in their own way. Bordered by POK and Tibet, Ladakh has Himachal to its south and the heavenly, Vale of Kashmir, to its west. A picture-perfect setting as this is too much to leave you to wander lusting.
Go Boundless will take care of all details including:
Why Travel with Go Boundless-
Planning the route and itinerary to include the 'must see' sights
Coordination of the convoy
Local guidance and support from experts
Safety Measurements
Lead & Sweep vehicle
First Aid arrangements
Extra drivers on demand
Basic service backup
Stay at all the offbeat and best available places.
Dune driving tips
Merchandising of Go Boundless
Munching Goody Bag
Family and Kids Friendly
Climate- During December, temperature range from minus 10 degrees to minus 30 Degrees.
Destination

Departure

Leh-Pangong Tso - Pangong – Tsomorriri - Tsokar–Leh

Departure Time

23rd January 2023

Return Time

29th January 2023

Included

4 Star & 5 Star

Breakfast

Dinner

Evening Tea

Lunch

Not Included

Alcoholic Beverages

Home Stay
Tour Plan
Arrive at Leh airport. Our representative will meet you at the airport and will transfer to the hotel. The day is designed for acclimatization. Enjoy your stay at beautiful The Adduz. Perfectly situated in between the beautiful Himalayan Range and the city's famed local market. So just relax and rest. Visit Local Market in the afternoon and buy the essential items for our upcoming drive to frozen Lakes. In Leh you will get real good warm clothes and most of the essential items.
Accommodation: - The Adbuz (*****)
Meals Includes: Lunch + Evening Tea + Dinner

Mornings are freezing, make sure to wear adequate warm clothes before you step out of Your hotel. Post breakfast, drive towards the Sham Valley, it's a beautiful drive and during winters the landscapes around are breath-taking. Take blessings at Pathar Sahib Gurudwara and drive till Alchi. On the way back local lunch at a warm house of Ladakhi family. Spend your afternoon at leisure and start back for Leh
Accommodation: - The Adbuz (*****)
Meals Includes: Breakfast + Tea + Lunch +Evening Tea + Dinner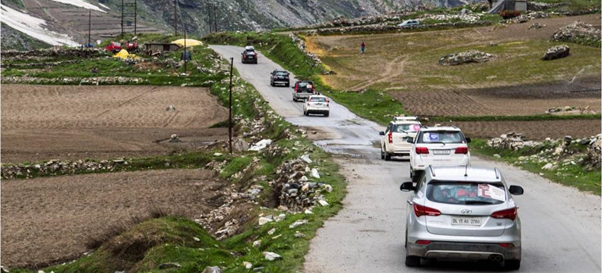 25th January - Leh-Pangong Tso - Where Time Stops to Gape at Beauty
Get ready for the most adventurous journey of the expedition. Self-Drive Gypsies are all set to roll. Early start as crossing Changlang-la in Winters are not only challenging but adventurous too. We will be carrying lots of food items and sleeping bag is a must. You never know what adventure is waiting for you ahead. Reach at changla-La Top and click pictures, During Winters you will hardly find anyone except our soldiers. Pay regards to Indian army and start declining from the top. Everything on the way will be in a Frozen state- Plants, water and even stones. The complete journey is an experience. Wearing the darkest shade of blue and holding the imposing mountain ranges in the backdrop, Pangong Tso lake is the world's highest saltwater lake stationed at an altitude of 4250 meters above sea level. As the lake is either partially or completely frozen during winter, it gives a feeling of being transported to the ice age. But in the end, it is the priceless experience that you carry along.
Accommodation: - Homestay
Meals Includes: Breakfast + Tea+ Lunch + Evening Tea + Snacks + Dinner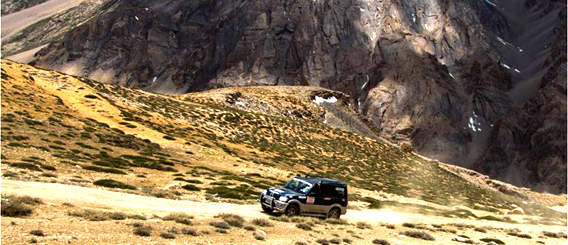 26th January - Pangong – Tsomorriri
Today's journey is through the wonderful and beautiful shoreline of Pangong On the way we will pay tribute at Rezang la war memorial of Indo-China war in 1962. Major Shaitan Singh along with brave 120 army personnel who killed 1400 Chinese warriors and laid down their lives very happily for their country. After paying Tribute to the Soldiers, we will move ahead towards Tsaga La pass, Loma and Nyoma. The route is along with beautiful Indus River. Reach Tomorriri by early evening before it gets too cold. Explore the Frozen Lake and check in to the Homestay. Experience the real hospitality of the people of Ladakh by staying with them in their warm houses. Learn how they survive for 6 months in this extreme cold. In winters, the sewage systems freeze, so you have to make do with Dry-Toilets. we spend time sitting around Soktsel (A warm sitting area) and exchanging stories! If there is a clear sky we will explore out and take in the views of the Milky Way!
Accommodation: - Homestay
Meals Includes: Breakfast + Tea+ Lunch + Evening Tea + Snacks + Dinner

27th January - Tsomorriri- Tsokar–Leh
Start Early and move towards Tso Kar which is a beautiful Salt Lake known for its size and depth situated in the Rupshu Plateau in the southern part of Ladakh. The smallest of the three high-altitude lakes of Ladakh, the remote Tso Kar Lake lies about 50 km from Tso Moriri. Situated at a height of 15,280 ft, it is bordered by lofty mountains that are home to the elusive snow leopard. The area surrounding the lake is rife with wildlife and flora, and it also makes for an important point for bird watchers Today's drive is challenging. The dirt road to Polokongka pass is totally offroad. On the way you can enjoy the great view of the Changthang plateau. Reach Tsokar and spend some time. It's totally unpredictable to say right now if we return back to Leh via Tanglang-La or Chumathang but we will be back to Leh by the evening.
Accommodation: - The Adbuz (*****)
Meals Includes: Breakfast + Tea + Lunch +Evening Tea + Dinner

Pat on your back and pamper yourself to complete this thrilling adventure. Relax and Soak in the Local Culture. Curated Lunch followed by Cultural tour.
Accommodation: - The Adbuz (*****)
Meals Includes: Breakfast + Tea + Lunch +Evening Tea + Dinner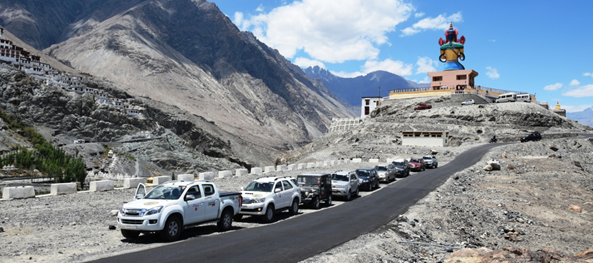 Back Home with sweet and thrilled memories
Gallery
Experience some of the most exhilarating Mountain passes and Highest motorable Roads in the WORLD
INR 53.000/- per person on twin sharing
Single occupancy charges are 40% extra at Leh- No Single occupancy option available at Pangong & Tsomorriri.
Bookings can be done by depositing 20,000/- booking amount!!!
"Boundless Journeys" Current A/c no 2479201000942 Canara Bank, Sector 19, Chandigarh. IFSC Code CNRB0002479 "Go Boundless" Current A/c no 50200065852270 HDFC Bank, Sector 8, Chandigarh. IFSC Code HDFC0000107
80% payment confirmation against booking. Rest 20% 15 days before the travel.
Cancellation before 30 Days, full Refund
Cancellation before 20 days, 70% Refund
Cancellation before 10 days, No Refund
Cancellation of event by the organizers 100% refund.
Cancellation arises out of unseen natural circumstances no refund.
All participants would be required to sign an Indemnity Form before the start of the expedition, without which they would not be allowed to take part in the expeditions. (We will share the format)
In case of rough weather, we have the full discretion, whether to go ahead with the trip/expedition or not. In case of cancellation due to rough weather, we will provide you with an alternate trip. The dates and the cost of trip may vary.
In case of Road Block to any destination, no refund and cost of alternate arrangements will be borne by the participant.
Inclusions-
Accommodation on Double Sharing – Hotel at Leh & Homestays at Pangong & Tsomorriri
Vehicle and Fuel
All Meals (As mentioned in the itinerary)
Pilot Vehicle
24X7 Medical Supplies with Oxygen Cylinders
Snow Driving and off-roading Experience
Service Backup
All Permissions
Merchandising of Go Boundless
Radio Communication Sets
Guidance and support
Exclusions
Does not include tips or other incidentals
Alcoholic beverages (you can bring your own booze)
Entrance charges to museums, forts and palaces, and camera charges
Expenses of a personal nature/ Extra snacks, cigarettes, laundry etc.
5% GST